Seven days a week, 52 weeks a year. Even on bank holidays and Christmas Day, Schenker's cold storage in Alnabru (Oslo's main cargo yard) is still working.
Around 10 to 15 men in thick, heavy jackets hurry back and forth. Most truck trucks, others ensure pallets are loaded high load in semi-trailers. The tail of a huge monkfish sticks out of the end of a box. There's two degrees celcius on the thermometer, a blurry working temperature for most, but for those who work here it's keeping the heat off the goods which is important. A man in a yellow vest enters the building. As he comes in, he takes off both scarves and mitts. Outside, it is much, much colder than in here.
We are in the middle of the peak season for salmon exports. At Schenker's cold storage in Oslo, it's all hands on deck from morning to evening. But it is not unfamiliar to those who work here. It is busy here seven days a week, 52 weeks a year.
1000 tonnes
In addition to a steady flow of lorries from processing plants, mainly from Western Norway, the Schenker train from Northern Norway arrives with salmon, five days a week. As early as 5am, the train arrives at the terminal. A few hours later (the most at one time) nearly 200 tonnes of salmon will be in the refrigerated warehouse.
"Most of this is out again before the day is over. Shipped with semi-trailers down Europe," said Elisabeth Nordeng, chief of Schenker's "Thermo" cold storage transport unit.
In a week, about 1,000 tonnes of salmon go through this site, which is the focal point for much of Norway's salmon exports. 90 per cent of salmon that is exported from here is transported to different locations in Europe, while ten per cent is shipped to Oslo Airport and exported by air.
You need to watch your step, but its rare we make any mistakes
In twelve double rows of pallets, from wall to wall, salmon is stacked in boxes. At the most, it is 24 boxes in width and at the narrowest, 20.
To make sure that every pallet is loaded on the right car is an intricate task that requires careful consideration. The customers have not only ordered salmon. They have ordered good quality and size. Some of the pallets also have more receivers, which makes the task much more challenging than if all the customers had ordered the entire pallet.
"Then you have to pick the right box out of the pallet, and it's not easy. The box may as well be on the bottom or in the middle of the stack of boxes, or at the top," said leader, Bjørnar Lie.
"You need to watch your step, but it's rare we make any mistakes," said Nordeng, showing a pallet sticker that said "mixed".
But if anything goes wrong. The customers usually work it out among themselves. That way, no fish is wasted, informed the company.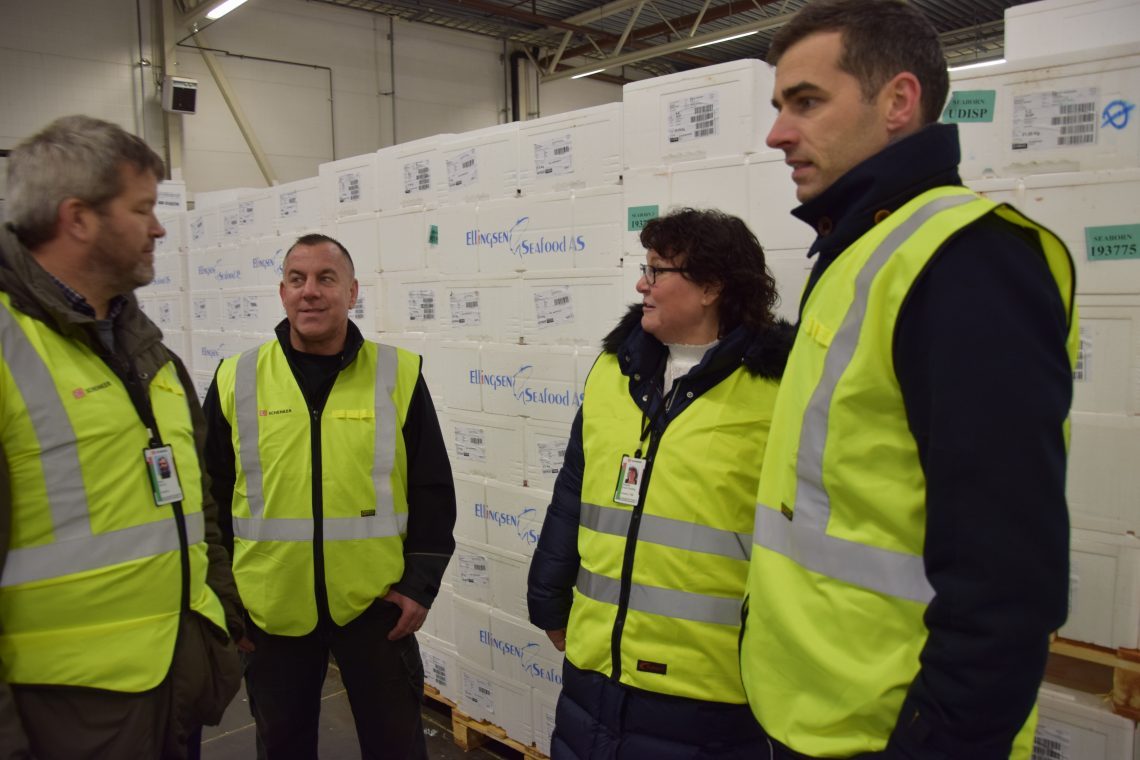 Never stop
Weekly, about 70 semi-trailers leave the terminal. These go to the vast majority of countries in Europe. If the trailer is full, it travels directly to its recipient. Pieces of goods may be reloaded on the continent for further distribution.
Such a semi-trailer can take 33 pallets. Normally there are 27 boxes of fish per pallet. When each box contains about 20 kg of salmon, it means that every truck can load up to 18 tonnes of salmon.
"The most hectic days here are Thursdays and Fridays. But every single day is demanding," Lie says, who has been working there for 18 years.
And when he says everyday, he means every day. Even on Christmas Day, New Year's Day and May 17, its all about the full trucks.
"The processing plants harvest in large numbers before holidays. Then one would think that we'll have days without getting salmon here too, but it's not (the case)," said Morten Würgler, Schenker's airline manager.
The reason is simple. The difference in shipping times from Western Norway to Oslo versus North Norway to Oslo means that fish are constantly being arrive. And even if that day falls between a Bank Holiday, they just have to stay open.