Mowi Canada West to close processing plant in Surrey, British Columbia – blames Canadian Government. 
Mowi Canada West has made what it describes as a difficult decision to permanently close its fish processing plant in Surrey, British Columbia – "a direct result of the Liberal Government's decision on 17 December 2020 to cancel salmon farming licences in the Discovery Islands".
The former federal Minister of Fisheries and Oceans, Bernadette Jordan, stated that her decision to remove 30 per cent of Mowi's production volume would only impact the Discovery Islands. However, according to the province's largest salmon producer, it has "created significant business uncertainty and has forced the company to close the facility".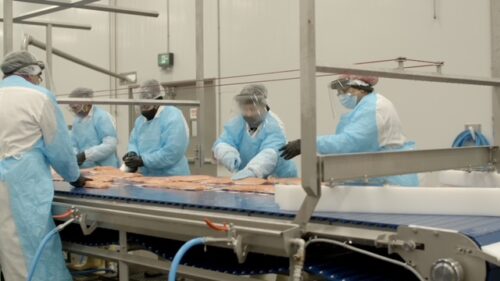 "This is devasting news to the employees and families who have relied on this operation for their livelihood. It is clear that the decision of the former Minister has lasting implications. Her decision is far reaching and continues to be incredibly damaging to the communities where we operate," said Dean Dobrinsky, spokesperson for Mowi Canada West. "It has been more than a year and we have yet to hear from either the former Minister or the new Minister Joyce Murray."
The 23,000 square foot value-added processing plant began operations in December 2017, and currently employs approximately 80 people.
Rupinder Dadwan, human resources manager, commented, "This is what happens when politics overrides science-based evidence. At the beginning of the pandemic we were deemed an essential service providing our country affordable and healthy food, and now we're forced to close our doors. Our Federal Government doesn't have to do this – it can choose fairness and engagement over divisiveness and exclusion."
A recent economic report found that the companies operating within Surrey that are part of BC's farm-raised salmon supply chain generate over $363 million in revenues, and create jobs for 1,189 workers earning almost $65 million in salaries.
"The Surrey Board of Trade is devastated that 80 jobs have been lost in Surrey and moreover that these jobs are moving to the US. There has been no government action, by any level, to help save these jobs in the salmon farming industry, an industry that is an important economic ingredient to Canada and to our food security systems," said Anita Huberman, president & CEO, Surrey Board of Trade.
The company say that, "until business certainty is restored in British Columbia," it will supply its customers' orders for value-added seafoods through its facilities located in the United States. The Surrey plant is expected to close in late March 2022. Mowi will continue to primary process all salmon grown in BC at its plant in Port Hardy, Canada.