America's first commercial-scale RAS farm will expand its operations into the eastern and western United States.
From its modest beginnings in Northfield, Wisconsin, Superior Fresh hopes to replicate its business model – an aquaponic operation raising Atlantic salmon and various types of greens – in two other states, but company president Brandon Gottsacker is mum on the specifics.
He told SalmonBusiness on Friday that he hopes the first shovel will hit the ground next year.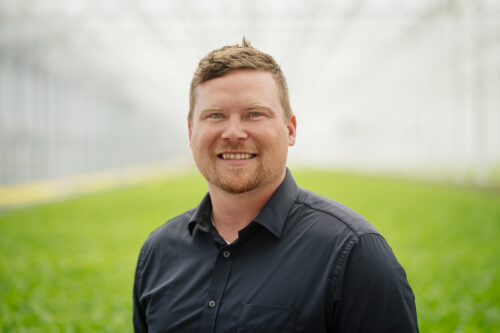 "We have now a couple of different sites lined up: one on the west side of the country and one on the east side of the country that we're excited about. We design all of our systems in-house and we're going through that process right now. We're going through different designs at different locations," he said.
Fish House
Unbeknownst to many, Superior Fresh is the first to deliver to the US market Atlantic salmon grown locally in a commercial land-based facility. Its initial harvest of 2,000 lbs (HOG) of Atlantic salmon was sold on July 4, 2018 (this journalist broke that news).
It began with a single retailer in Wisconsin, but now its fish and greens are sold in 25 states. "But our fish, specifically, are traveling as far as Texas and New York City," said the agricultural entrepreneur.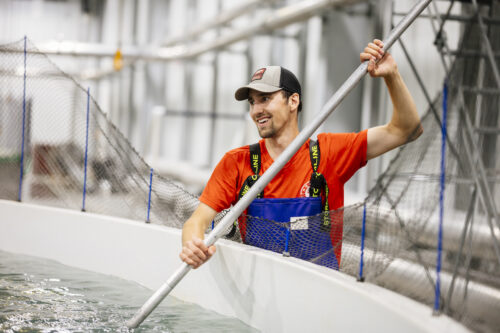 "We've been head down, humble and quiet, unlike a lot of others, and we plan to continue that way. We want to just grow, and raise fish and greens and harvest the best quality food. That's our mission."
The operation is deliberately small. Initially built on 720-acre family property, Phase 1 saw the 40,000-ft2 fish house produce 70 metric tons (160,000 lbs) of Atlantic salmon per year. It now occupies a total of 800 acres. Phase 2 expansion in 2020 saw the fish house grow to 100,000 ft2, boosting production by ten-fold to roughly 750 metric tons (1.5 million lbs) a year.
"For a few months now, we've been producing and harvesting about 30,000 to 40,000 lbs a week of head-on gutted Atlantic salmon," said Gottsacker.
"We wanted to start small and improve the concept and train the people. We've got an incredible team that can run an operation like this and, I'd like to say, we're being strategic about how we're expanding."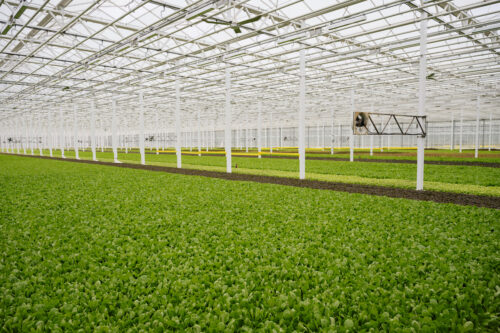 Greenhouse
The company started with a 3-acre environment-controlled glass-encased greenhouse in 2019. Its indoor farm now totals 13 acres following three phases of expansion. The most recent was in mid-2021.
Superior Fresh produces four-times more greens in terms of biomass than fish.
As if perfecting the relationship between fish and water isn't complex enough, why complicate things further by adding a greenhouse component?
"Cash flow," said Gottsacker. "That piece is important. It helps tremendously. The greens turn much faster: we can grow crops in about 20 days in the greenhouse versus the upwards of two years it takes to grow Atlantic salmon."
Besides, for Gottsacker, growing vegetables not only makes economic sense but it also aligns with the company's sustainability and social responsibility strategies.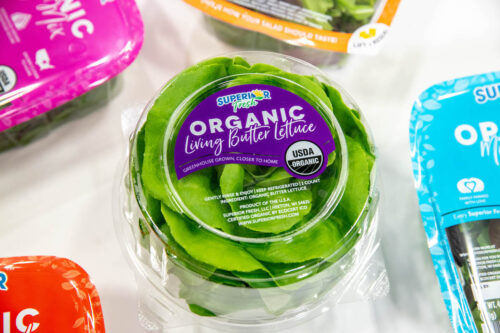 Given the Midwest's frigid winters, "there's no such thing as fresh local Atlantic salmon in the region, or at least until Superior Fresh was allowed in. And in the wintertime, or nine months out of the year, there's no such thing as fresh leafy green vegetables either. It's all traveling thousands of miles, typically from Salinas, so there are some huge advantages there."
He added: "From the sustainability aspect, the greens are pulling the nutrients out of the water, which otherwise would have been discharged into a stream and end up in the ocean. And as soon as the nutrients are mixed in with saltwater, you can't utilize it anymore. [The salmon are raised in freshwater throughout their lifecycle.] So, the greens are cleaning the water that gets to go back to the fish, and with that, we can use a lot less water overall."
Priority: Getting the fish taste right
As a nascent technology, land-based Atlantic salmon farming is still evolving. It has high capital costs, and technical problems are not unheard of. Gottsacker says Superior Fresh has "exceeded all production metrics" it set for itself, foremost because of its "great team."
He said a lot of the farm's technology is off-the-shelf; what's proprietary is the processes.
"It was a matter of just piecing it all together properly. And luckily we worked with the Freshwater Institute and Steve Summerfelt (of Freshwater Institute at that time) led the design of our systems. He has been raising Atlantic salmon there successfully for several years. We've improved on the designs internally. I would say significantly but not necessarily with a ton of new technology; a lot of it is process improvements." (Summerfelt later joined Superior Fresh as chief science officer in June 2018.)
Since the time they broke ground for construction in 2015, getting the fish taste right has been the team's top priority, he said.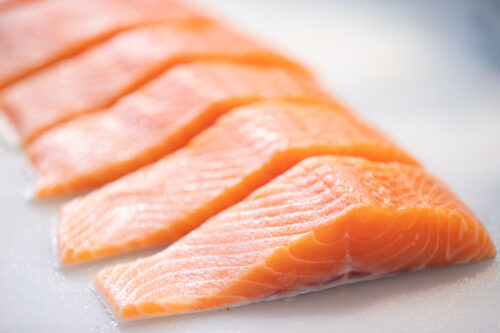 "Off-flavour has been an issue in land-based farming. You can build a beautiful, massive fish house and grow a lot of fish, but if your fish don't taste good, you're in trouble. So far we've done both well. We're able to exceed all of our production metrics and we are far below what the taste threshold is for off flavors. It has been consistently like that for a few years now. We put a lot of time and effort on the front end."
"We have not had any issues since we sold our first salmon on the fourth of July in 2018," he continued. "We've been in the market every week of the year [selling 4-kg fish]. Knock on wood, but we've been very, very fortunate. And again that comes down to the people and the processes and the designs of the system."
Is Superior Fresh making money?
"On the fish side, yes we are," said Gottsacker. "The greens are a different animal, but we are very close. There's balance overall, where week to week is all good."