Chilean salmon farmer hit by higher costs and lower prices.
Australis Seafoods on Monday posted its 2018 financial statement for the period between January 1 and December 31, 2018.
EBITDA before fair value biomass adjustment at the end of 2018 reached USD 81.9 million, 40% less than the USD 136.6 million reported the previous year.
Magallanes and Chilean Antarctica represented 51 per cent of the total harvest compared to 42 per cent of the 2017.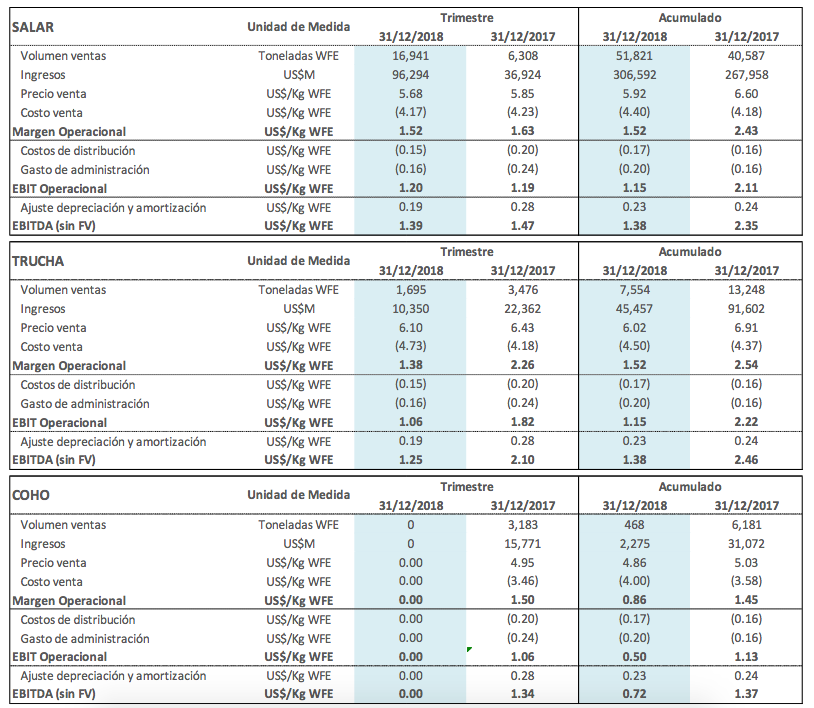 The company wrote that although tonnes sold remained constant compared to the previous year, the company argued that revenues decreased "due to a drop in prices with respect to 2017, in which historically high prices had been observed".

The salmon farmer added that higher costs were explained by challenges in the Magallanes region in terms of logistics and harvesting, which decreasing product efficiencies implemented during the year. The company has now drawn up a plan of efficiency initiatives to reduce costs in the short term at similar levels to the year 2017.
At the end of 2018, revenue totalled USD 360.9 million, representing a decrease of 9.7% compared to December 2017. The price of Atlantic salmon dropped from USD 4.23/kg in 2017 to USD 4.11/kg in 2018.
The cost of total sales in December totalled USD 270.3 million, 4.6% higher compared to December 2017, translating into an increase of cost of sales per kilo, a consolidated level, from USD 4.16/kg to USD 4.41/kg.
In November, China's Joyvio Group, a subsidary of Legend Holdings, bought 94.47% of Australis Seafoods for USD 880 million. The deal has been given until April of this year to settle.