Majorca-based venture capitalist Petter Kleppan was pulling the strings when start-up company CageEye valued itself as a EUR 120 million group.
"It's amazing. You will see big farm concepts. They will change drastically," predicted Petter Kleppan (43). He is the visionary and colourful chairman of the Bluegrove Foundation, the foundation now set up by the startup company CageEye.
But what are Petter Kleppan's assumptions about predicting trends in food production of the future? Who is he really?
Silicon Valley
Petter Kleppan led the negotiations, both with NorseAqua and Sealab, when CageEye made its much-publicised acquisitions – with settlement in high-valued shares.
Read more: The start-up doesn't make any money, but is valued at close to 60 per-cent of the competitor and equipment giant AKVA group
Kleppan has learned his metohods in the world's start-up Mecca, Silicon Valley.
Kleppan grew up in Stabekk, west of Oslo, Norway, and was educated at BI Norwegian Business School. He also holds degrees from Handelshochschule Leipzig and Cornell University. In 2003, at New York University Cornell, he received a scholarship for a course in Silicon Valley, and he traveled to California with a group of Norwegians. Within three months, they drew up a business plan in competition against other students.
He had his own ability to "take the room, and appear older and more experienced than he was," said his former study mate Anders Lie Brenna, editor of the online news service Enerwe, who noted Kleppan's sales skills. Brenna himself wrote a blog about his time in Silicon Valley.
Petter Kleppan did not return home. He stayed in California.
Architect
According to the website Startupmatcher.com, Kleppan has built up companies in Silicon Valley, Hollywood, the Middle East and Northern Europe, in aerospace, software and data analytics. According to the same source, he has "designed competitive solutions and products serving Fortune 500 clients in multiple continents in the field of semantic and contextual analytics."
Among the missions were, according to the website, chief architect of Kistler Aerospace Corporation "two form RpK post Chapter 11 Proceedings and subsequently won a USD 207 million contract with NASA in 2006."
In a 2016 interview with the publication VG, it was stated that Kleppan is a resident of California. He is referred to as an investor "who has invested in many start-up projects in the past and built up a significant status as a company builder." One of the objects he has invested in, the app developer Gobi, he introduced to a roadshow in Silicon Valley. Kleppan then described the journey as "a Viking voyage, in which five young Norwegians come to conquer the market."
"They have found something unique, but the train is leaving now," Kleppan told VG.
Kleppan is joined by Gustav Witzøe Jr and Norwegian ski star Petter Northug among the investors in Gobi Technologies.
Steinkjer
The following year Petter Kleppan returned home. On 2 January 2017, he established his wholly-owned investment company Oakrock Haksen Lindestuen, with a business address in Molovegen 19 in the newly built district of Jæktbyn in Steinkjer, Central Norway.
In the same year, two other companies Kleppan is engaged in, Bivrost Capital and T:Lab Capital, were also founded. Both based in Steinkjer. In Steinkjer, the much-publicized CageEye, formerly known by the name Lindem Data Acquisition, also had its business address. Kleppan is chairman of T:Lab Capital. T:Lab Capital managing director Håvard Belbo did not wish to comment on how these companies were established.
"I don't want to go into this," Håvard Belbo told SalmonBusiness.
In CageEye, Kleppan would need his Silicon Valley skills. In particular, related to storytelling via the Dutch company The Avalanche Company. Kleppan operates this together with business partner Marloes Eshuis, who is also hired as CageEye's communications manager.
"The Avalanche Company was established in Q1 2019. You can find more on the homepage. It is a consulting firm," wrote Marloes Eshuis in an email to SalmonBusiness.
Visions
On this home page, it reads:
«It's a changing world. And still the mix of new technology and human basic interaction matters. Seldom has an audience had the availability to judge the authenticity of your mission and behavior. This time you can not wipe things under the carpet as it will be measured, discovered, and observed. You are exposed or about to become exposed as your stakeholders have enriched their tools and observation at their disposal.»
"Define the status quo, redefine direction and facilitate storytelling," it continues.
In Bluegrove, Kleppan and Eshuis have been using storytelling, both with imagery and metaphors.
"We're going to dance in the streets," Kleppan said in a Bluegrove video that was deleted shortly after it was shared in a SalmonBusiness article.
Waterfalls
For Bluegrove's planned strategic partnership agreement with Microsoft, the company devised a "joint PR strategy" in April 2020, which was called "the waterfall." Here it stated that their communication strategy was "rivers and streams" and "the power of the small streams" that together can form a large waterfall.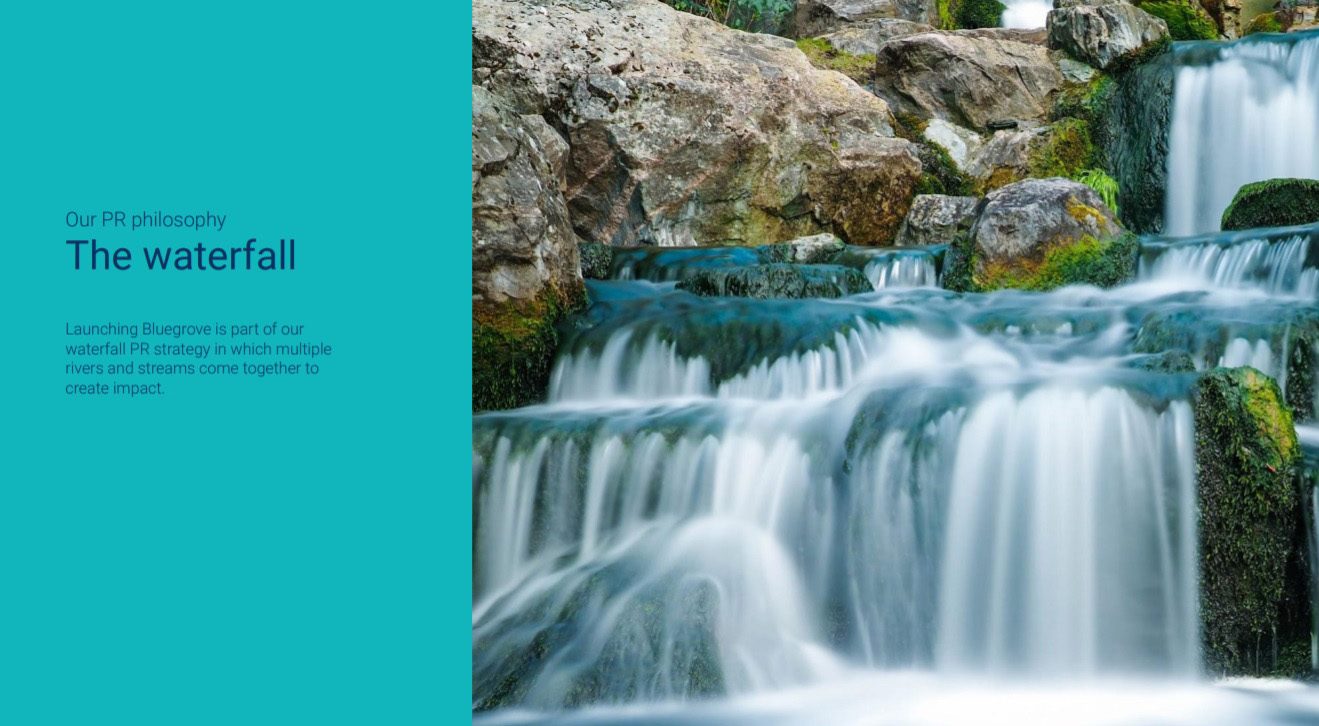 Kleppan, who is currently living in Palma, Majorca, is also an avid supporter of yoga and meditation, which also seems to appear on a Bluegrove video. The video, which shows an interview with a man, from Medellin, Columbia, who is talking about meditation, was removed soon after SalmonBusiness published this story.
When you see the various Bluegrove videos, it's easy to get carried away, forgetting that most of the company's revenue is generated by the sale of fairly uncomplicated cleansing cleaner fish hides, pump houses, bags that carry seaweed and feed spreaders produced at an old door factory in Bindal, Central Norway.
According to the website writes Novelt.com, Kleppan is considered to be a "holistic strategist for companies that are facing transitory changes or strategic shifts, and as a result, invest in challenging new markets".
"Integrity, care for community, teamwork, and understanding are his keywords for successful companies."
Mystery
SalmonBusiness has spoken to a wide range of independent sources about the Bluegrove project and Kleppan's role:
"He's the brain. He's the key to accessing money. He's in power. He is a mystery," said a source with good knowledge of both Kleppan and the company.
Others SalmonBusiness have spoken to call Kleppan "a shaman."
"Charismatic, unaccustomed dress style compared to business people that we otherwise meet. Extremely eloquent, but at the same time, a lot of talk completely without content and substance," Sealab founder Milan Markovic said of Petter Kleppan.
Another start-up project Kleppan is engaged in, is Dutch Lithium Werks. Lithium Werks also uses storytelling. In its self-promotion, the battery company is introduced with John F. Kennedy's speech on moon landing. Lithium Werks has made a number of acquisitions, but has also faced some challenges. Both the entrepreneur and the CFO have resigned. The cash squeezed company is, according to the Dutch newspaper RTVoost, currently chasing ten million dollars.
SalmonBusiness has tried, repeatedly over several days, to contact Petter Kleppan in connection with this case. He has not returned our inquiries.