Stock market winner on fish boxes.
It is gradually becoming a comprehensive sector. As many as 29 companies, large and small, listed on the Oslo Stock Exchange have their main business in fisheries and aquaculture. The majority of them are engaged in salmon.
No one could match value growth of BEWI.
Potent
The packaging giant from Frøya in Norway put on 216 per cent in value in 2021. It is miles ahead of the next competitor on the list.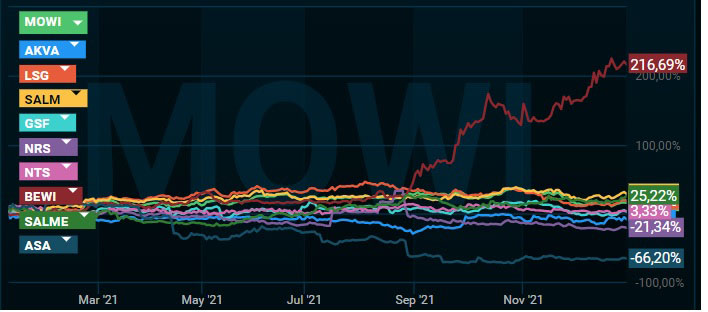 BEWI was listed on the stock exchange in August 2020, and has not looked back. With a potent share price as the settlement currency, the company has completed several acquisitions, with the purchase of competitor Jackon in particular being the most active.
The BEWI share has been under-analyzed. Of the few brokerages that follow them, Pareto Securities is the only one with analysis coverage. However, Pareto believes most of the upswing for BEWI shareholders is over. The brokerage has a hold recommendation on the share, with a price target of NOK 75.
Followed the total index
Looking at the pure salmon farmers on the stock exchange, it was SalMar and Lerøy who strived to have the best price development. Both put on 27 per cent in 2021.
By far the most traded share in the fisheries and aquaculture sector, Mowi, had to settle for a 15 percent price increase this year. It is significantly weaker than the Oslo Stock Exchange Total Index, which rose 24.2 per cent.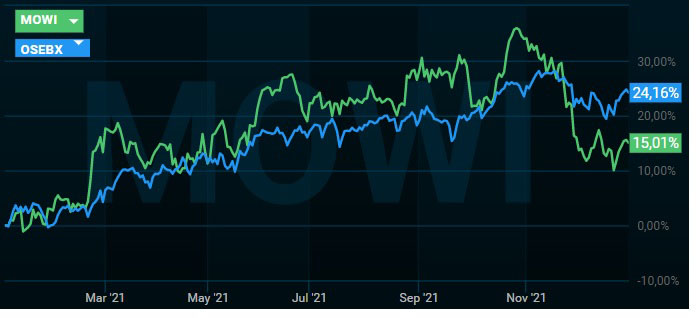 Chill winds
The ongoing hangover from Chile's previous annus horribilis was reflected in the reaction to the country's salmon farming companies' third quarter results which saw around a 15 per cent drop for the Santiago-listed farmers before recovering slightly to achieve a five per cent increase for Multiexport and a ten per cent increase for Blumar for the year. Oslo-listed Salmones Camanchaca fell some 30 per cent over the course of the year, having had its profits wiped out by algal blooms.
On land
A segment that has received much attention this year – particularly from SalmonBusiness – is land-based salmon farming. Eight of them are listed, if one includes US AquaBounty (listed on NASDAQ in New York).
There has been no lucrative investment.
With Salmon Evolution as the only honorable exception, all land-based stocks fell in value. For three of them, namely Atlantic Sapphire, Proximar Seafood and AquaBounty, the fall was over 60 percent.