"Demanding that suppliers are fully deforestation free is necessary to stop ongoing deforestation in Brazil."
Two Brazilian soy suppliers to European salmon feed producers, CJ Selecta and Caramuru, have achieved their goal of eliminating deforestation and conversion linked soy from their supply chains, according to a new independent report.
Last year, Brazilian soy suppliers to the European salmon industry, CJ Selecta, Caramuru and Imcopa, announced that they would implement a 100 percent deforestation and conversion free soybean value chain with 2020 as their cut-off date. The commitment, abolishing trade of any soy grown on land deforested after this deadline to any customer, set a new benchmark for sustainable supply chains globally.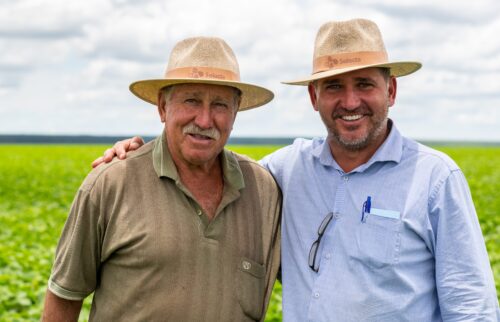 "We see this voluntary sector-wide commitment as a benchmark to inspire other global animal protein sectors, as well as other markets linked to the soy supply chain," WWF Brazil said at the time when the 2020 cut-off date was announced.
No farms engaged in deforestation allowed
"It is great news that Brazilian soy producers for the very first time are confirmed to be fully deforestation and conversion free in all their operations," Nils Hermann Ranum of the Rainforest Foundation Norway said to Aftenposten.
"Demanding that suppliers are fully deforestation free is necessary to stop ongoing deforestation in Brazil. Private sector companies have a responsibility to avoid contributing to deforestation and environmental damage, and the Norwegian salmon industry and their suppliers set an important example that other food producers must follow," says Ranum.
To demonstrate the effectiveness of the monitoring, verification and reporting (MRV) system, contracts, and names from public lists of social and environmental liabilities were randomly selected and checked against the names in the company soy receiving report. Using satellite techniques and embargo lists the newly published audit report confirms that these soy supply chains have become deforestation and conversion free.
More sustainable food system
The audit report also confirmed that the farmers did not have any work related to slavery or illegal labour and that there were no agriculture overlaps with Indigenous lands.
The third company, Cervejaria Petropolis-Imcopa, is in a corporate change and is currently participating in a separate audit process.
"We work hard to reduce our impact in production and our supply chains, as we need to move towards a more sustainable food system. Being the first sector to have confirmed deforestation and conversion free Brazilian suppliers is a huge step forward," says Tor Eirik Homme, Director of Feed and Nutrition in Grieg Seafood.
"We congratulate and celebrate this historic achievement with CJ Selecta and Caramuru. The move proves that sometimes it's the small companies that take the boldest action. We hope the rest of the Brazilian soy industry will follow their example," Homme says.