As the United Kingdom rolls on towards its exit from the European Union next year, the SSPO raised serious questions saying that Brexit may lead to increased tariffs on Scotland's most prized export. But just how concerned are those involved in the industry?
"By coupling aquaculture with future catch fish quotas, this document raises the prospect of tariffs being imposed on exports of farmed fish if there is no agreement on North Sea white fish quotas. It also raises the prospect of border checks for fresh salmon exiting the UK bound for our biggest export market – the EU," said Julie Hesketh-Laird, chief executive of the Scottish Salmon Producers Organisation. But what do those in the smoked salmon and processing business really think?
I'm not concerned in the slightest
When pushed, Alasdair Fraser from the family-run Stornoway Smokehouse, didn't seem that fazed. "I'm not concerned in the slightest," he said in a call to SalmonBusiness. "If an Italian customer wants my product, he'll get it. Earlier this year I sent some smoked salmon to Hong Kong. I filled in a form online to WTO classifications and it arrived, 56 hours later – no tariffs, no questions. How is it going to be more difficult when we have no agreement with China?!"
Based in the port of Mallaig in the Highlands of Scotland, Andy Race, a fish merchant who produces Scottish peat-smoked salmon, was also indifferent. "It doesnt worry me. Most of my smoked salmon is sold to private customers who are happy to buy on quality and not price."
Decent fish
Steve Walker from Hull-based Prime Processor, a fish merchant that specialises in secondary salmon processing, said that leaving the EU would enable him to get his hands on better quality Scottish salmon.
"We used to use Scottish salmon but the quality of fish got worse and worse. So we moved onto Norwegian and Icelandic. It's the US, the Japan, the EU (that get the best cuts) and what's left comes back to us. When Brexit hits – it's still going to go to Japan and the US, but it just won't be going to the continent. It may cost more money because of tariffs, but more could come back into England. Then maybe we can get back some decent fish!"
"No deal"
Leaving the EU without a trade deal isn't an issue for Lance Forman, owner of Britain's oldest original salmon curer at H. Forman & Son. "Leaving on WTO terms suits me fine," he said.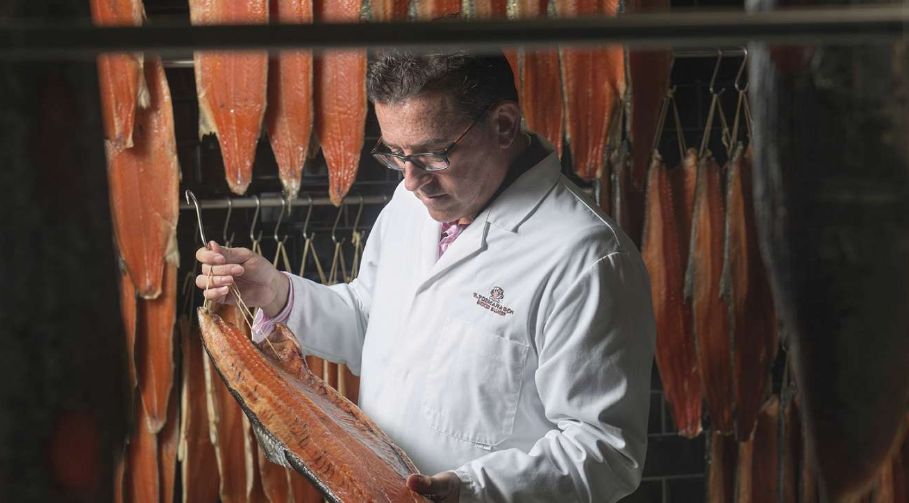 "I dont have a problem with no deal at all, quite frankly. I think that's the best of option at this moment in time. Given that Theresa May doesn't want to pursue a free trade deal, which would be a better option. What you have to remember is that we didn't vote for a deal (…) People voted to leave, a deal was never a pre-requisite, it was just a bonus. I think people have got so caught up in the deal thing in the last two years that they've forgotten what people actually voted for – which is just to leave!" said Forman.
Mr Forman was actively involved in the Vote Leave campaign citing (amongst many other issues), the cost of EU-compliant packaging for his family's smoked salmon business.
"It'll be fine for 99% of businesses and if there are tariffs, so be it. Prices are always going up or down! The price of raw salmon almost went up 100% two years ago, so a few percent here or there isn't going to make any difference. The sterling has been devalued by 15% since the referendum so even if there was a 3, 4 or 5% tariff, they're still better off on their exports anyway. Price isn't everything and everybody adjusts. So it really doesn't worry me in the slightest," Lance added.
We don't know what's happening
Iain MacRury who runs the Salar Smokehouse in the Hebredes took a more cautious tone, and was worried about the government's handling of Brexit. "The information is so confusing, it's changing by the day," he said. "We aren't sure we will be able to export after. Whether you are pro or anti-Brexit, it doesn't really matter, nobody really knows what's happening."