Salmon processor sends own divers down with video cameras to capture what it says is the current situation. But one full week after bright red liquid footage emerged. 
A salmon processor in British Columbia, Canada, that counts Cermaq Canada and Grieg Seafood amongst its customers, has hit back at claims that it "continues to produce heavy flows of thick and red wastewater".
On the 5th of December, anti-salmon farming campaigner Tavish Campbell posted underwater footage of bloody discharge being dumped into Campbell River allegedly near Brown's Bay Packing Company.
Still Flowing
Campbell held an underwater sign saying "2019 Fish Farm Virus Still Flowing". He said that he went down on October 31 2019, November 17 2019 and November 24th. Campbell made a near-identical graphic video in 2017.
However, in a statement and Youtube Video, Brown's Bay Packing writes: 'In recent days some media reported claims from salmon farming critics that Brown's Bay Packing continues to produce heavy flows of thick and red wastewater, suggesting nothing has been done by our company or regulators since a video of our outflow pipe first came to light two years ago.
"These claims are simply not true."
Youtube
In a Youtube video posted eight days after Campbell images emerged, Managing Partner Dave Stover says that company sent its own divers down with video cameras to capture "what's actually going on".
A diver is seen next to the same pipe – which is 91m from the shore and 26m deep – this time with the effluent a cloudy lemonade colour liquid coming out of the pipe, the date on the sign reads: "DEC.6/19″ – allegedly one day after Campbell took his footage.
Stove goes into details about the new treat water system and says that" On a daily basis, blood water from harvest represents only 15 – 18 per cent of liquid that is directed for treatment".
He added that the effluent looks grey "because of the lower light conditions on the floor".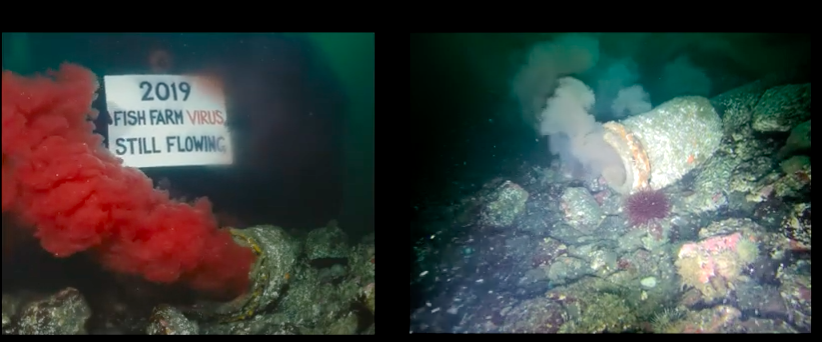 Misrepresented
On the above image, Stover then says "On the left is the footage which was misrepresented as current through inaccurate reporting".  On the right he says "this is our operations today, straight up, with no fancy filters or editing".
On Thursday morning, before the statement and new footage came out, SalmonBusiness asked Brown's Bay Packing Company Managing Partner Dave Stover: What the red effluent?
"The substance coming out of the pipe is blood water from harvest vessels," he said.
Do you dispute the dates of the footage taken? 
"I cant dispute the dates – I simply don't know the dates," he said.
But does that mean that the new process has only been working properly for a few days/weeks at the most?
"Our water treatment system was commissioned in May and has been operating ever since. Adjustments are related to automation and will likely continue until January. We have some construction to complete as well," he added.
SalmonBusiness has asked Stover why he didn't put this footage up earlier. And why he believes that the original footage was misrepresented. 
"It was a simple matter of logistics. It took us a couple of days to line up divers and then work through the footage," he said.
"As for the dates, it's simply unclear to us when Tavish took his video. We installed the system May 1 and it has been operating ever since, removing blood, proteins, and solids from the wastewater. We have reviewed all flow data and reports from the system and don't have any indicators of alarms or tests that would tell us it was not working effectively at any point during that time. After this review it is exceedingly unlikely that our system was offline at anytime during processing.
"The video was put forward as what's happening now, with a claim nothing has been done since the first video two years ago. That is a misrepresentation of the facts. The fact is we have invested $1.5 million to install a state-of-the-art water treatment system, which has been in place since May," added Stover.
Reputational risk
SalmonBusiness asked Brown's Bay Packing's customers Cermaq Canada and Grieg Seafood: Do you have any concerns this that could be a reputational risk to the company?
A spokesperson for Cermaq Canada said: "As the video lays out, and as we understand, the blood water from our harvesting goes through the Browns Bay plant waste water system and as you are aware from speaking with Dave Stover, there have been improvements to the system over the years, with the latest being the recent CAD 1.5 million up.
"Over the past 18 months all of industry has worked closely with the Province on processing plant regulatory reform. British Columbia has implemented some of the strictest processing waste water standards for salmon aquaculture in Canada. Cermaq respects responsible regulation and has been in support of the large investment in waste water treatment technology at Browns Bay Processing".
A spokesperson for Grieg Seafood told SalmonBusiness: "At Grieg Seafood BC, we work closely with Brown's Bay Packing Company and trust that our salmon is processed under the highest standards in the country. In 2019 Brown's Bay invested $1.5 million into their waste water treatment technology to become a leader in responsible salmon processing in Canada, which we are more than satisfied with.
"It's important to us as a company to be responsible and sustainable from egg to plate, so knowing that Brown's Bay Packing Company not only meets but exceeds regulations is another reason why we are proud to work with them every day."