China flexes muscles against as Australia demands probe into origin of coronavirus. Are Tasmanian salmon exports at risk?
Bloomberg reports that The Communist Party of China (CPC) officials have drawn up a list of potential goods also including seafood as well as oatmeal and fruit that could be subject to stricter quality checks, anti-dumping probes, tariffs or customs delays.
According to a report from the neoconservative British foreign policy think tank the Henry Jackson Society, Australia is the most China-dependant country of the five powers commonly known in intelligence circles as the "Five Eyes". It sends a third of its exports to China.
"Permanently adversarial"
Since the COVID-19 outbreak, relations between the two nations risk slipping into permanent hostility, reported the Guardian. It quoted former deputy secretary of the Department of Foreign Affairs and Trade in Canberra Richard Maude who said that Australia's ties with China could descend into a "permanently adversarial" state.
Last week, China suspended imports from major Australian meat suppliers over amid the dispute over the origins of the coronavirus.
It is not clear what is in store for Australian seafood exactly. But what potentially is at stake for Tasmanian salmon?
In the past, Japan used to account for the majority of Australia's fishery exports, but rising Chinese incomes have increased the demand for high value lobsters and salmon. Though since the outbreak, all exports have been restricted because the lack of international air freight services making it difficult to access markets.
According to government numbers, production is expected to remain at around 60 thousand tonnes between 2020–21, and then projected to increase by 3% per year for the remainder of the outlook period to reach 69 thousand tonnes by 2024–25. It also expects the normalisation of exports this year.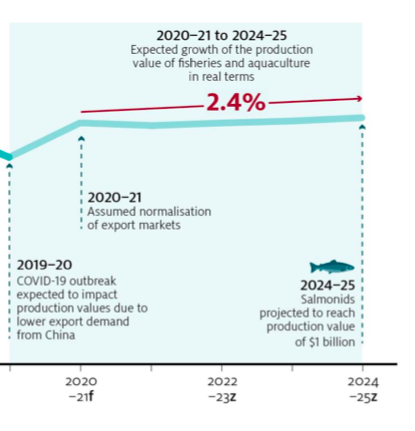 Tasmanian salmon
Tassal, Australia's largest producer of Tasmanian grown Atlantic, which relies heavily on the export market, has close trade links to China, including a 24 hour salmon supply project with HNA Cold Chain and HNA Cargo. In Tassal's 2019 annual report, salmon accounted for AUD 85 million worth of exports – 18 per cent of its earnings. It is not clear how much goes to China but exports to the country are important.
Huon Aquaculture uses Auslink Marine, one of China's leading importers of premium Seafood, to bring in its salmon to the mainland. New retail markets in Taiwan and China, which last year accounted for 7 per cent of revenue in 2019. This was down from 11 per cent in 2018 because of a "significant fall in volumes resulted in some difficult decisions with regards to continuity of supply".
Petuna, which is now jointly owned NZ fishing company Sealord, wrote that revenue increased by 4.5 per cent because of "a stellar year on the back of strong pricing in both export and domestic market" in its 2019 annual report.
New Zealand
While much has been reported on Australia, neighbouring New Zealand may be in the dog house for its recent support of Taiwan and for its membership in the World Health Organisation. In reponse, Chinese Foreign Ministry spokesman Zhao Lijian told a news conference in Beijing that it expressed strong dissatisfaction with NZ's statements and resolutely opposed it. "We have already made stern representations with New Zealand," Zhao said.
In January, SalmonBusiness reported on the Huawei saga that affected New Zealand's salmon sales as exporters were placed on a Chinese trade blacklist. NZ's biggest seafood exporter Sanford had several shipments of fresh salmon delayed down to a "frosty diplomatic situation".
For now, exports seem to be as relatively normal as they can be in coronavirus times. A spokesperson for New Zealand King Salmon told SalmonBusiness last week it "haven't been affected at the moment". "Any trade boycott would be a concern but let's hope we don't reach that point," they added.