As the United States and Canada account for less than ten per cent of the world's salmon production, and consequently are nowhere near covering their own domestic market, extensive salmon volumes must be flown or shipped to the North American market. Every year, more than 400,000 tonnes of salmon are consumed here.
This means that Chilean and European fish farmers must add air freight in the cost calculations for the fish offered in this market. This means that the American salmon market, over time, has a price premium of €0.80-1.00 per kilo – depending on the air freight cost applicable at any given time.
Premium
This particular premium is a very central part of the business idea of ​​the land-based farmer Atlantic Sapphire.
With production close to the Everglades in Florida, safely inside the US market, the company can pocket the price premium. This price premium can also be used as a comfortable buffer – to compensate for higher production costs than for competing fish farms in the sea.
But it requires that the company obtains a price premium. Because in December, the fish was sold at a discount.
In the presentation material related to the current trading update from Atlantic Sapphire, it appears that the company achieved a sales price of $7.5 per kilo. It is identical to Fish Pool's Oslo price in December.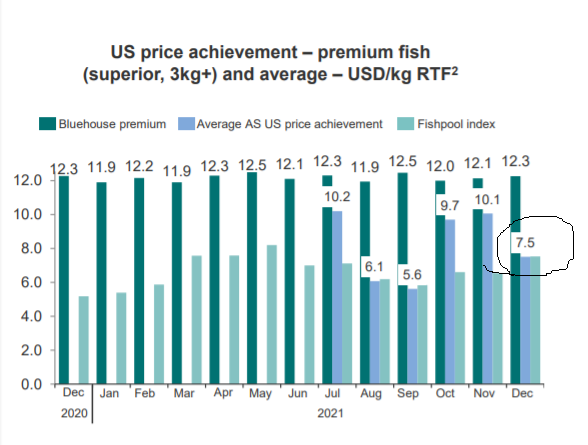 Discount
Put another way, the fish was sold at a discount equal to the air freight cost to European salmon farmers.
CEO Johan E. Andreassen does not completely agree with the premises for this.
"If Fish Pool in Oslo was $7.50 in December, it is true that it was our average price for all sizes and qualities. For 3-6 kilos superior on the other hand, we achieved $12.30. This is more comparable to Fish Pool in Oslo, since the Fish Pool Index is only 3-6 kilos superior as well. Comparing apples to apples, that is a premium of $4.8 dollars," he said.
"The reason why our average price is $7.5 is a large proportion of prod B (downgraded fish – ed. note) and fish under kilos due to sexual maturation on the first batches," Andreassen added.
Mix
Atlantic Sapphire harvested 400 tonnes, equivalent to 22 truckloads of salmon, in December. The company further states that it has a biomass of just under 2,569 tonnes swimming in the tanks in Florida.
For the first half of this year, the company estimates a harvest volume of between 2,000 and 2,500 tonnes of salmon. It appears from the presentation material that the fish that are to be harvested in the first quarter will be of a small size and have a high proportion of downgrades.
"We have a mix of usable fish and bad fish in the initial batches. We try to get the worst out first, since they do not perform. So therefore, the average price will probably gradually increase as we harvest through these batches," Andreassen explained.