Stock market not willing to put any positive value on the pelagic activities of Austevoll Seafood.
Austevoll Seafood's 26 fishing boats have an annual catch of 400-500,000 tonnes of fish. In addition, the purchase of raw materials comes from other suppliers. A total of 1.6-2 million tonnes of pelagic fish are processed at the company's 38 processing plants. Primarily fish meal and oil, but also consumer products such as anchovies, herring and mackerel, among other species.
In addition to this, the company has ten boats that catch 100-120,000 tonnes of whitefish annually. This, in turn, is processed at eight plants.
Bet
But the financial market has, over time, not wanted to price up the underlying values of this business. Austevoll Seafood is considered solely a bet on salmon farming, and the controlling owner post in Lerøy Seafood Group.
As a view of the figure below, prepared by investment bank Sparebank1 Markets, Austevoll's controlling 52.7 block of Lerøy has a value of EUR 1.6 billion. 
However, the stock market value of Austevoll Seafood is EUR 1.4 billion. The fisheries activities thus have a negative value of EUR 200 million.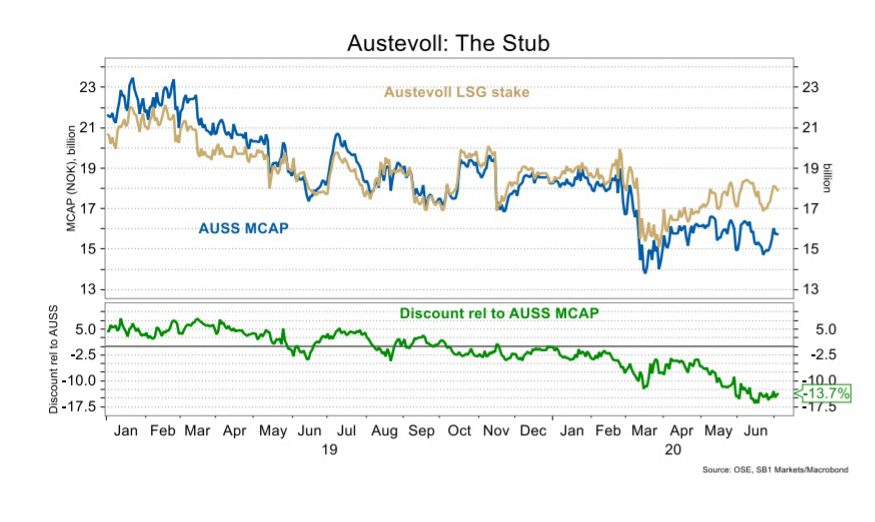 Discount
The conglomerate discount is not unlike what Austevoll Seafood owner Helge Møgster's old business partner, Kjell Inge Røkke and Aker, has had to find for over many years on the Oslo Stock Exchange.
Sparebank1 Markets, however, believes that the Austevoll discount will disappear over time, and has a BUY recommendation on the share. The price target is set at NOK 120. Austevoll Seafood is trading at NOK 78 on the stock exchange on Monday morning.