A stiff gale blows. Sleet drifts over the quay. The conditions are not dissimilar to what the "Antarctic Provider" may encounter on the fishing grounds in the Antarctic Ocean. Lillianne Wiger is dressed in a traditional Norwegian folk dress and stands ready at the podium. She normally works with accounting and payroll at Aker BioMarine, but has been given the honour of being godmother for the christening of the 168-metre-long freighter.
After naming the boat and wishing it and its crew all the best on the seven seas, she resolutely sends the Moët champagne bottle crashing into the ship's side.
Our wonderful godmother Lillianne Wiger smashing it🥳🍾💥 We wish Antarctic Provider a safe and productive journey for all her crew⛴ pic.twitter.com/fsNXTtsVWa

— Aker BioMarine (@AkerBioMarine) October 21, 2021
The first cargo
"Antarctic Provider" is at the quay at Avaldsnes in southern Norway – far away from the hunting grounds at the South Pole. From the bridge you can look over to the large customer BioMar's feed factory. Here, the ship delivered its first cargo of krill meal earlier this week.
"This offload was a 2,000-3,000 tonnes," said Matts Johansen, CEO of Aker BioMarine, to SalmonBusiness.
– How much krill goes into that volume?
"You can multiply it by seven. We sell about 40,000 tonnes to aquaculture, so there is a large volume that goes to salmon farming here in Norway, shrimp farming in Asia and other marine fish as well. It is fairly evenly divided between salmon and shrimp, with 40 per cent each, and 20 per cent for other marine species, sea bass and other species in Asia."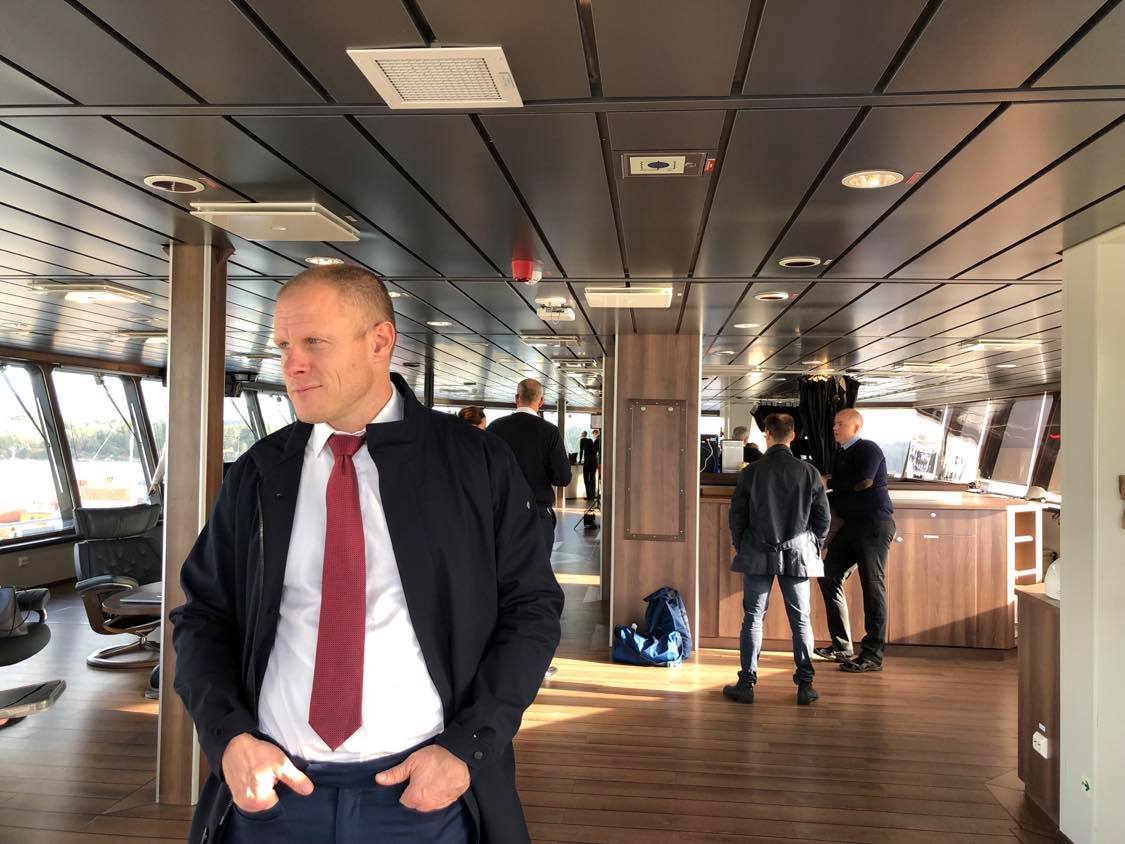 Free capacity
"Normally the ship wouldn't come here", said Johansen, looking out at the storm-beaten Karmsundet.
There are several reasons why the krill company has brought the vessel home.
"Firstly, the season is just finished now. This boat is new so it should not have as much maintenance and had spare capacity. Then we know that the logistics situation in the world is costly and difficult. So it's a pretty big cost saving for us to run it ourselves. Bring some equipment, make some improvements when we were here in Norway actually. Normally it will not go with the product all the way up to the customer. It will operate between Uruguay, which is the home port, and the fishing grounds. It is this boat that picks up the product, takes the crew back and forth, and bunkers."
The krill meal will usually travel by container boats from Uruguay and up to Norway.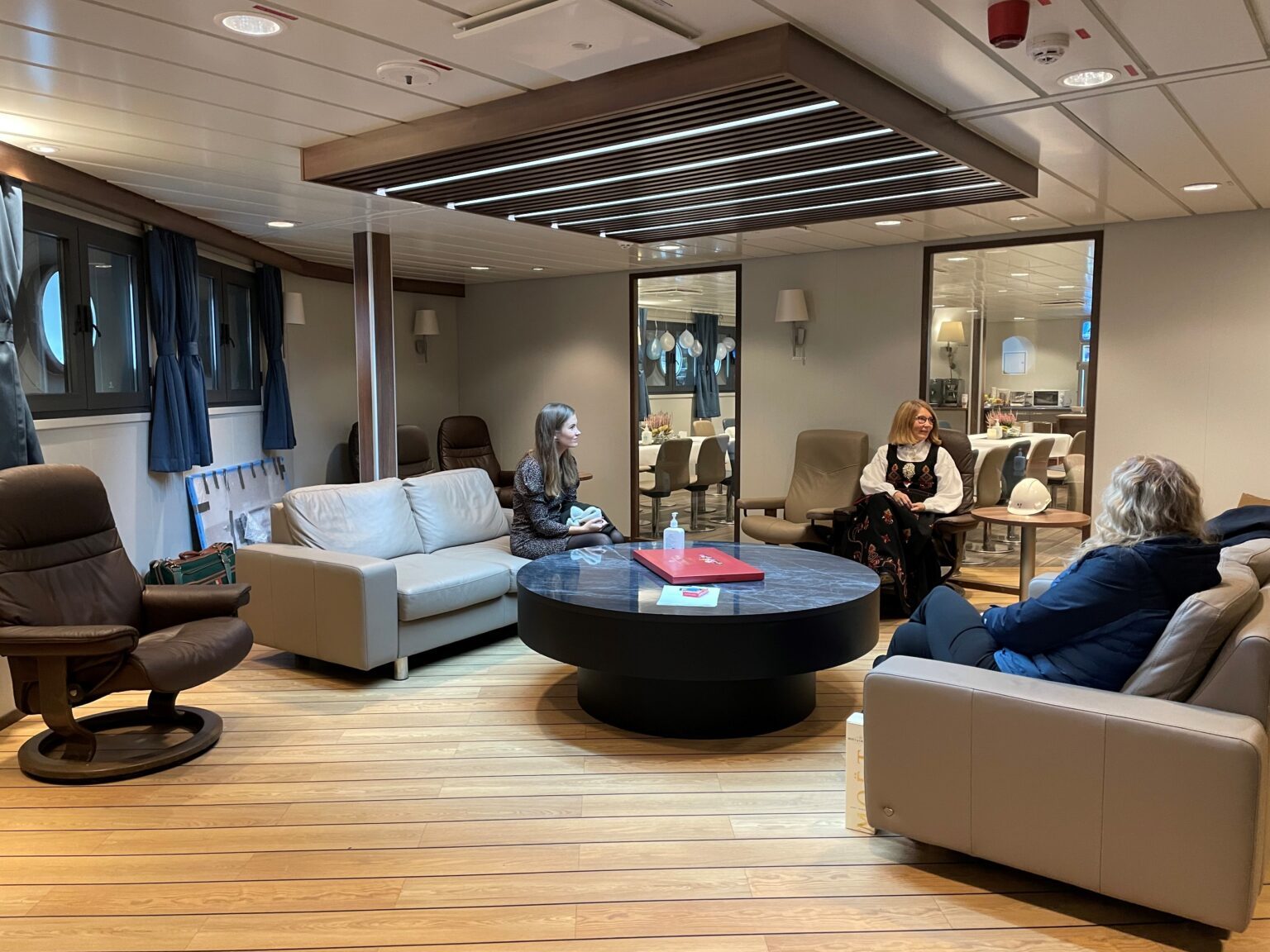 – And the prices for container shipping have multiplied price recently?
"Yes, and it is a lack of capacity, not just cost," Johansen pointed out.
"Then the three fishing boats can be on the fishing grounds all year round, they are at home 6-7 weeks a year, for maintenance, but otherwise they are out all year."
Well-being
No one in Aker BioMarine knows the boat better than Eldar Vindvik, Executive Vice President for Fleet Renewal.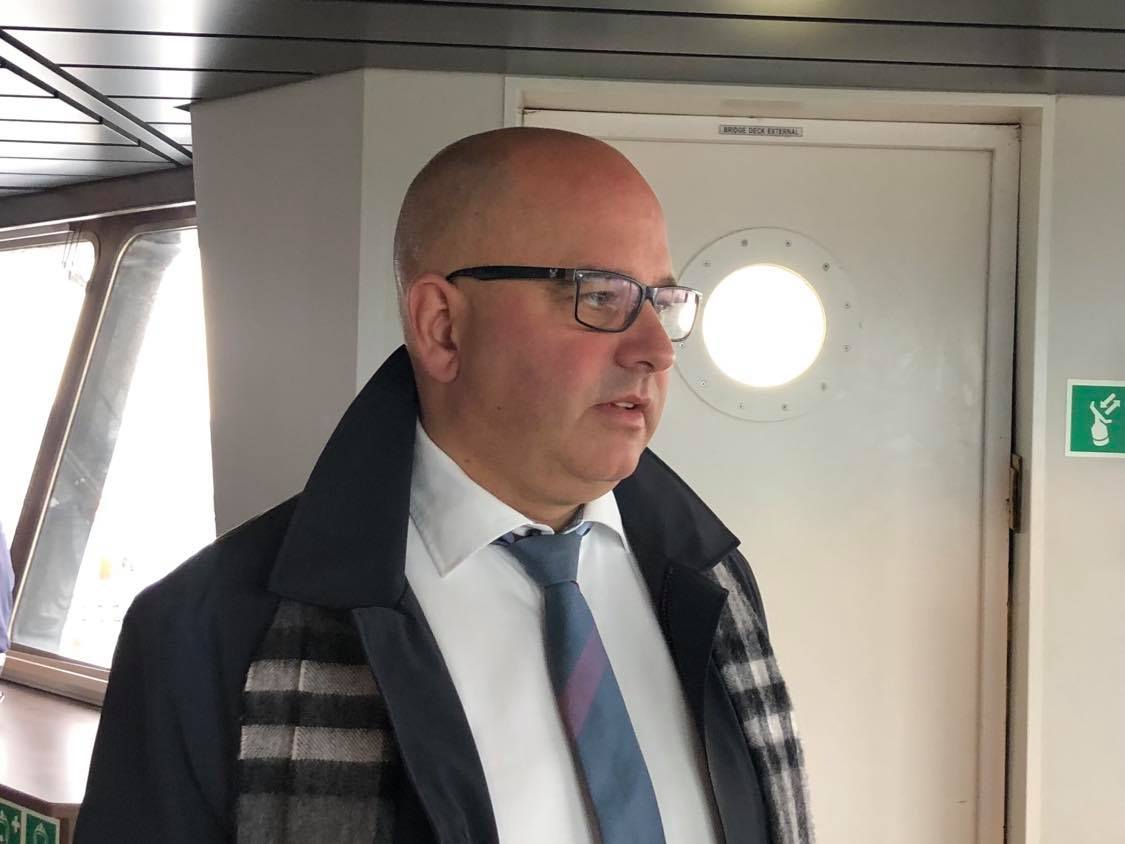 "We started the project in 2019, signed a contract on December 21, and two years later the boat was delivered from Yantai in China. It is designed by Wärtsila and constructed in China. We have emphasized well-being for the crew, transport for the crew is an important part of the job," said Vindvik.
"We have a cinema hall, there is a gym, there is table tennis, there are good recreation rooms, music rooms, a sauna. We conduct in-house training with crew training," Vindvik continued.
"We have placed great emphasis on sustainability and reducing our footprint. Taking more cargo per trip and with fewer trips."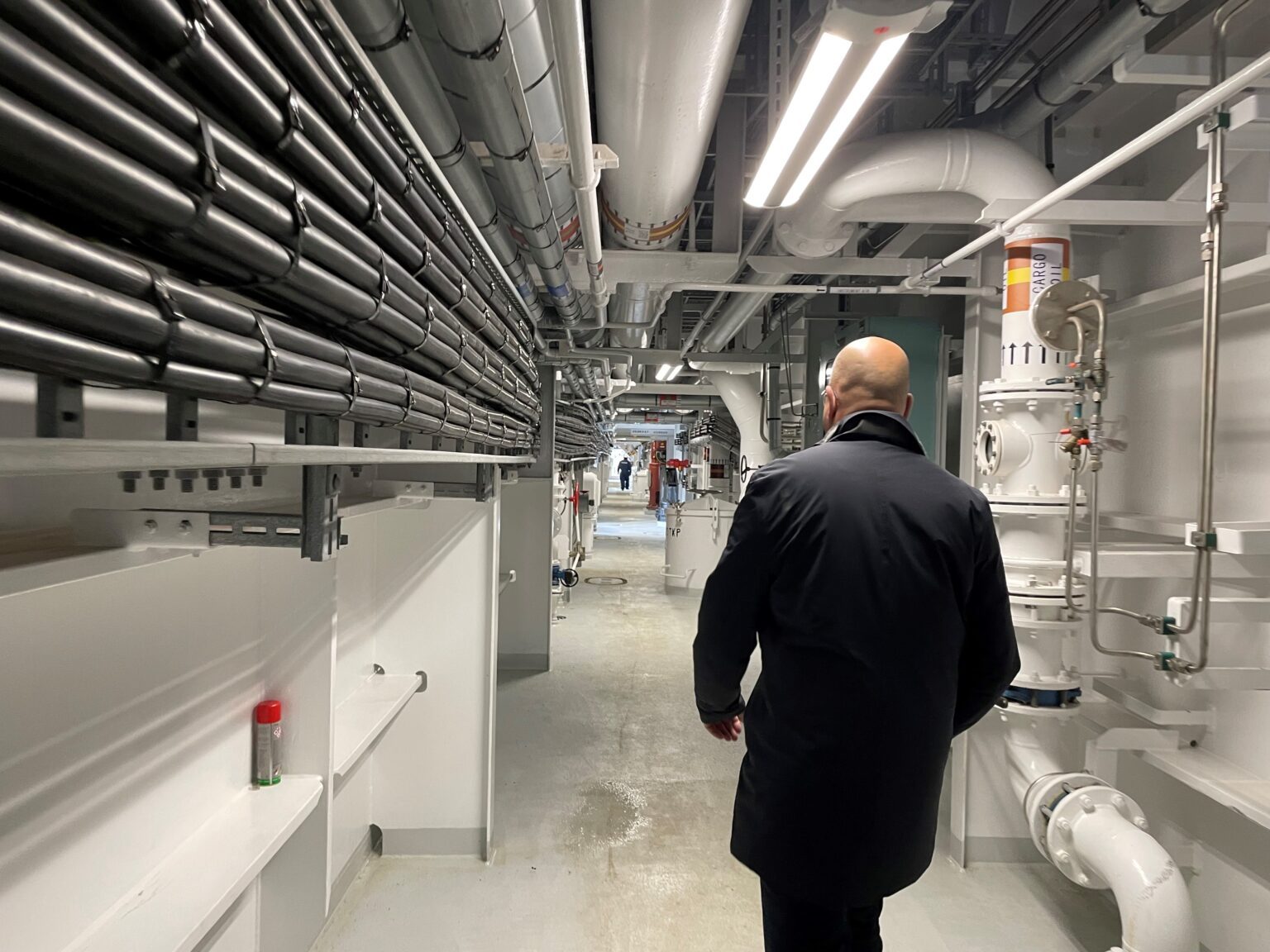 "We have a crane system from Aukra Maritime, where four cranes simultaneously operate 12 sacks over the row. They go in big bags, are packed on the factory ships and loaded into nets," Vindvik continued.
The ship was built at CIMC Raffles Offshore shipyard in Yantai, and is equipped with Dynamic Positioning (DP). From the bridge you can see a stern deck the size of a football field. Below this are four cargo holds that hold 40,000 cubic meters, giving a cargo capacity of 12,000 tonnes of krill meal.