Fisheries and Oceans Canada is consulting with seven B.C. First Nations, some of which are demanding the removal of 18 salmon farms.
The Government of Canada writes that it has completed nine peer-reviewed, scientific risk assessments to determine the impact of interactions between wild Pacific salmon and pathogens from salmon farms and inform the response to Cohen Commission's Recommendation 19.
The long term report called the Decline of Sockeye Salmon in the Fraser River came up with 75 recommendations contained to "address the health and long-term sustainability of Fraser River sockeye salmon stocks".
CAD 197.1 million was spent over five years, starting in 2016–17, to Fisheries and Oceans Canada to increase ocean and freshwater science including monitoring and research on Pacific salmon.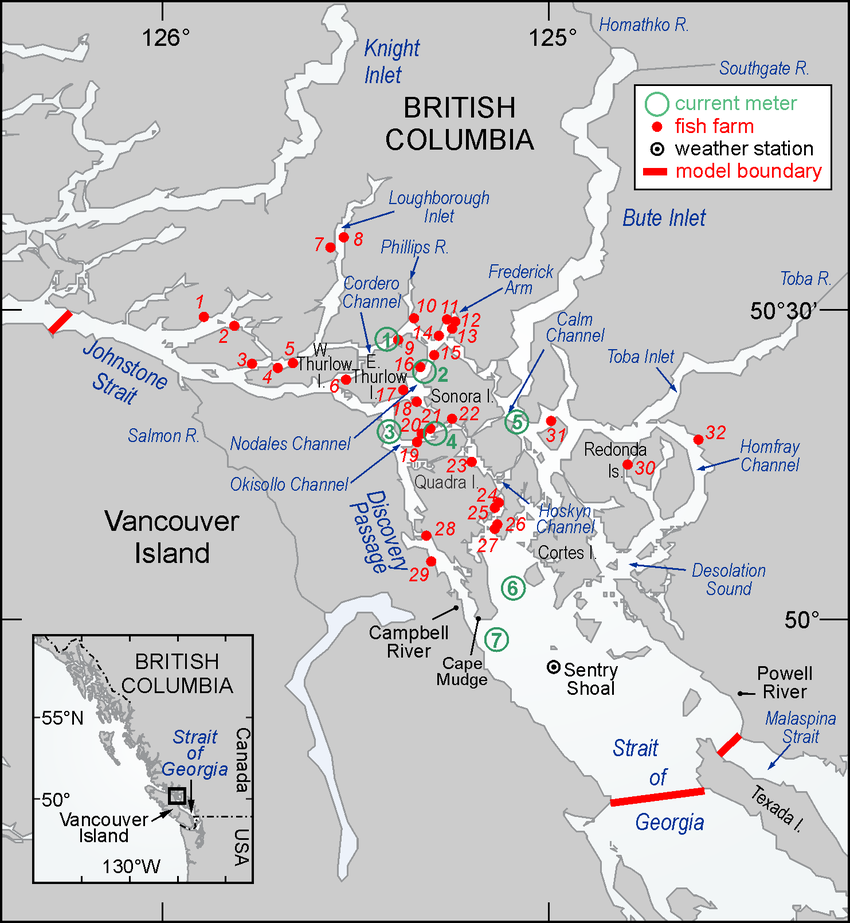 The results of these assessments concluded that the transfer of these pathogens "pose a minimal risk to abundance and diversity of migrating Fraser River sockeye salmon in the area."
However, Fisheries and Oceans Canada (DFO) said that starting immediately, that it will begin consultations with the Holmalco, Klahoose, Komoks, Kwiakah, Tla'amin, We Wai Kai (Cape Mudge) and Wei Wai Kum (Campbell River) First Nations about the aquaculture sites in the Discovery Islands.
CBC reports that the above named were part of a consortium of 101 B.C. First Nations, along with commercial and sport fishing groups, who have been protesting, calling for an end to open-net salmon farms.
DFO will be consulting with seven First Nations, including the Holmalco, Klahoose, Komoks, Kwiakah, Tla'amin, We Wai Kai (Cape Mudge) and Wei Wai Kum (Campbell River) First Nations. The information exchanged with these will inform the government's decision on whether or not to renew aquaculture licenses in the area, prior to the deadline. In the Discovery, licences are renewed on an annual basis. These are set to expire in December.
Part of Justin Trudeau's Liberal party reelection pledge was to phase open-net salmon farms to closed containment systems by 2025. However, Minister of Fisheries, Oceans, and the Canadian Coast Guard Bernadette Jordan said that she won't be getting rid of any British Columbia salmon farms by 2025. Instead, she will "come up with a plan" to remove salmon farms – and not necessarily remove them by that date. The federal government has not specified which system would be adopted by that time.
BC salmon farmers have agreements with 20 First Nations in BC, including several within the Discovery Islands region.
In response to the findings the BC Salmon Farmers Association wrote: "DFO has carried out nine scientifically peer-reviewed risk assessments to determine the impact of interactions between wild Pacific salmon and farmed salmon in responding to the recommendations of the Cohen Commission. This work clearly shows that ocean-based salmon farms pose no more than a minimal risk of serious harm to wild salmon populations in the Discovery Islands. Sound science will support the stability and shared values our industry is bringing to the coast today and into the future."