Scotland's first semi-closed system to go ahead.
On Friday, it was announced that plans for Scotland's first semi-closed containment marine finfish farm have taken a further step forward, after the Scottish Environment Protection Agency (SEPA) granted an environmental permit for Loch Long Salmon's Beinn Reithe site, near Arrochar.
The permit comes after a two-year programme of surveys and modelling to demonstrate that the farm will not compromise the environmental quality of the Loch.
If all subsequent requirements are met, construction on the site could now begin as early as the the end of 2022.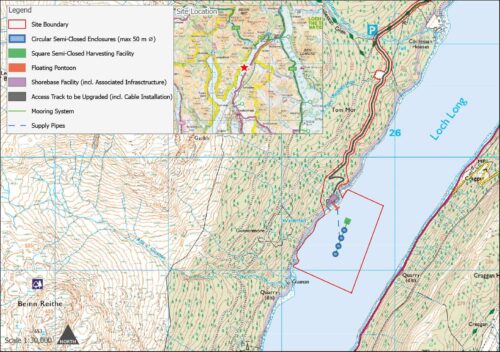 Semi-closed
The Loch Long project initially attracted attention because of its proposed use of innovative semi-closed systems designed to limit the environmental impact of salmon sites.
Unlike conventional open net pens, semi-closed containment systems continuously pump deeper water from below the more variable and biologically active surface layer into the farming enclosure, this means lice cannot enter the pens, protecting the farmed fish as well as the wild fish in the Loch.
Closer inspection of the company's website reveals further information, that in its own way, is equally innovative – and which in combination with SEPA's constructive approach – could point the way towards a new model for salmon farming in Scotland as the government seeks to reshape industry along more sustainable lines.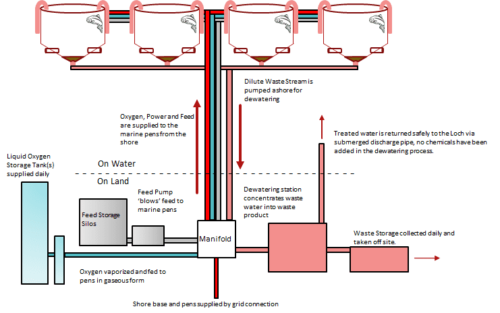 Turnkey solutions
Loch Long Salmon is fronted by Stewart Hawthorn, a former managing director of Grieg BC. The company is a joint venture between Simply Blue Aquaculture, Trimara Services (an aquaculture service provider owned by Hawthorn) and Golden Acre Foods, a Glasgow based specialist food wholesaler with a turn over of £90 million, and a £3 million profit for 2021.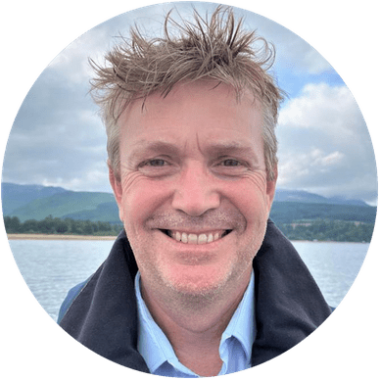 According to the Simply Blue website, the company's model is based on the delivery of turnkey solutions for new low impact salmon farm structures while putting in place the finance to make this possible.
As the website states, "We consent, develop, fund and install the chosen infrastructure on the site so that the salmon farmer can take over a completed system. This allows salmon farmers to concentrate on the husbandry of their fish whilst we develop their new farms or retrofit existing sites. Long term finance can enable the salmon farmer to lease the site if they do not wish to buy it."
Finance
Does Loch Long represent a pilot model for a new diversified salmon farming industry in Scotland, featuring independent farmers (made possible by easy access to finance) and based around local production, and low environmental impact?
Certainly, in Europe there is a move towards this model, with the European Commissionlooking to fund projects that offer innovative solutions to a wide variety of areas, such as  sea lice control, data management, biomaterial development and research into antimicrobial resistance.
The permit granted to Loch Long Salmon allows the company to deploy 5 enclosures of 140m circumference, with a biomass limit of 3452 tonnes.
As of yet, no technology provider for the company has been selected, although it has been confirmed that Trondheim-based manufacturer Fiizk will feature on any shortlist drawn up by the Loch Long Salmon.
According to a press release issued by the company, this set up has been approved by SEPA because over 85 per cent of waste and uneaten food is collected internally at the bottom of the enclosure to be brought ashore and treated. This reduces the environmental impact of the site, protecting the seabed and surrounding marine environment.
Future of the salmon farming industry in Scotland?
Stewart Hawthorn, Director of Loch Long Salmon, said: "We are delighted SEPA has granted the CAR licence for our Beinn Reithe site in Loch Long, particularly for their thorough but helpful approach which will help bring semi-closed containment aquaculture to Scotland for the first time."
"This farming system has been operating successfully in Norway since 2014 and is now being deployed in the Faroes and Canada, but this is the first time it will be used in Scotland.  This exemplar project provides an opportunity to show closer to home what is possible and to secure the future of the salmon farming industry in Scotland.
It will, reduce environmental impacts while continuing to support vital jobs and economies in rural Scotland.""With this SEPA licence, I hope the Planning Authority will act quickly to grant permission so that we can begin construction of this exciting project."
Illustration: Loch Long Salmon