They sold fish for EUR 4.5 billion, but both turnover and operating margins went down last year.
SalmonBusiness has taken a closer look at the 2018 accounts of 24 leading exporters of salmon and trout. The most obvious conclusion is that competition is intensifying. It has become considerably more difficult to make money from buying and selling salmon and trout in recent years.
This can most easily be illustrated by summarizing the EBIT margins of this sample of the mentioned fish exporters. This landed at an average of 1.24 percent, following a steep fall from 2017.
No lower operating margin has been recorded over the past eleven years.
Falling trend
However, the underlying trend has been clear for a long time. After the peak year 2010, with an average margin of 2.14 per cent, exporters' margins have been declining.
But the fall was significantly steeper from 2017 to 2018.
At the same time, fish sales fell last year – from EUR 4.8 to EUR 4.5 billion.
Seaborn, Gaia Seafood, Front Marine, Polar Quality, Aalesund Fish, Inter Sea, Ocean Quality, Salmosea (formerly known as Nils Williksen), Sekkingstad, Firda Seafood, Selected Seafood, Nordic Group, Wannebo International, Prestfjord Seafood and Global Salmon can all report weaker sales than the previous year.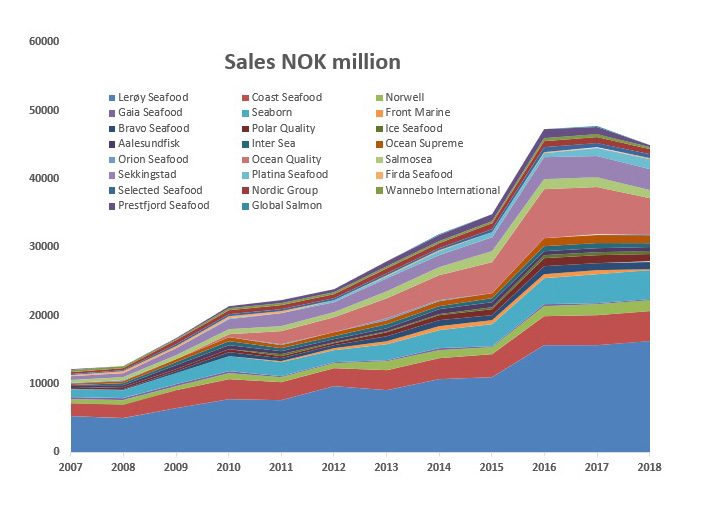 Threw the cards
Symptomically, two of them have thrown the cards: Gaia Seafood and Global Salmon. The market was too demanding.
But there are still players who are making good profits on exports.
Best of all last year was the small player Orion Seafood in Ålesund. The company, run and owned by Zarina Tatrova Helle, withdrew a margin of six percent in 2018. In the places after Orion Seafood, Firda Seafood and Platinum Seafood followed, at three percent and 2.7 percent, respectively.
| | |
| --- | --- |
| | EBIT/Sales 2018 |
| Orion Seafood | 6,0 % |
| Platina Seafood | 2,7 % |
| Sekkingstad | 1,1 % |
| Lerøy Seafood | 1,5 % |
| Inter Sea | 2,1 % |
| Front Marine | -0,2 % |
| Coast Seafood | 1,6 % |
| Ocean Supreme | 1,4 % |
| Bravo Seafood | 1,3 % |
| Selected Seafood | 0,0 % |
| Norwell | 2,0 % |
| Nordic Group | 0,1 % |
| Gaia Seafood | -1,2 % |
| Aalesundfisk | 0,4 % |
| Seaborn | 0,8 % |
| Ocean Quality | 0,8 % |
| Wannebo International | 0,0 % |
| Prestfjord Seafood | 0,1 % |
| Polar Quality | 1,2 % |
| Salmosea | -0,6 % |
| Firda Seafood | 3,0 % |
| Global Salmon | -400,0 % |
| Ice Seafood | -0,4 % |
| PCG Import Assist | 2,0 % |
| Fram Seafood | 1,0 % |