It has never been more expensive to feed salmon.
Converted to Norwegian kroner, BioMar's feed sales in the second quarter of the year show an average price of NOK 15.30 (€1.6) per kilogram of fish feed. It is the highest feed price of all time, by a fairly clear margin.
In the past year alone, the price of fish feed has increased by a whopping 25.9 percent.
Also read: BioMar CEO lashes out at Cargill's Russian activity: "Surprising and disappointing to witness"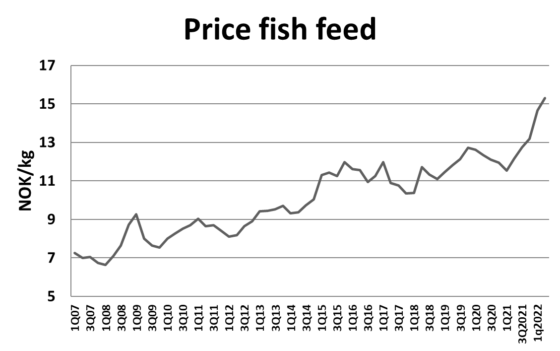 It is a cocktail of price increases in energy, raw materials and logistics that is behind the significant inflation.
Fish feed is by far the most important cost component in salmon farming. Given a feed factor of 1.2, it will now cost NOK 18.35 (€1.9) to feed a kilogram of salmon.