Delays expected on the A96.
A lorry travelling on the A96 in Scotland between Threaplands and the Urquhart turn off lost some of its load this morning, spilling fish heads and waste all over the road.
Police are apparently in attendance, reports Moray News, and delays are expected until the road is cleared.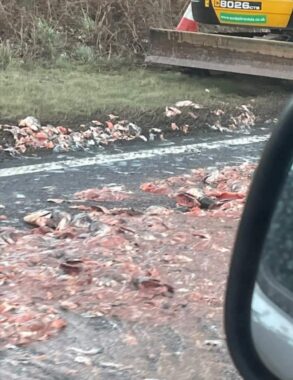 With much of Northern Europe experiencing treacherous icy conditions, this is not the first such accident in recent weeks. Last week, SalmonBusiness' sister site iLaks reported on the case of a truck carrying 19 tonnes of salmon that skidded through the barrier on the motorway and off a bridge.
Long term readers will remember the case of the missing 20 tonnes of salmon that 'disappeared' following an accident in Argyll and Bute after a lorry carrying the fish crashed on the A82 that runs from Glasgow to Inverness via Fort William.
Update: The road has now been cleared