Former Ocean Quality director Arne Aarhus looks back on an unusually colourful career.
"We have chosen to take a year off this year, and have travelled a lot," said Aarhus.
SalmonBusiness met Aarhus in Godvik, just outside Bergen, Norway. From here, he has exported from his own home on an astonishingly large scale over the past year.
Aarhus exported fish for almost EUR 30 million and achieved an operating profit of more than EUR 2 million. He's doing pretty well for himself.
Though at the same time, he does realise that money is not a driver for him. In fact, he drives a Skoda and the family lives in a house bought for just EUR 200,000.
There are other things that motivate him.
Extreme
"I was a professional base jumper for two years and had my own television program in Iceland, for a total of over 50 episodes," he said. "I've jumped from the Leaning Tower of Pisa, the London Eye, the Eiffel Tower, the KL Tower, the Stratosphere in Las Vegas, the Golden Gate, the Colosseum, as well as several other well-known landmarks around the world. We sold reports to Fox, Discovery and ITV. And travelled around the globe".
Besides base jumping and parachuting, he did rock and ice climbing, scuba diving and paragliding.
"Everything that was fun. I was among the foremost in the world at base jumping. Not many people were doing base jumping when I started. In Norway, we were maybe ten".
Young wave
He got an education in fisheries management in the late 90s. He and his current wife, Ingelill, met during his studies in Tromsø, Northern Norway. She is also a skydiver.
After a couple of years of action and parachuting, Aarhus started working.
"I decided to sell fish," he said.
Aarhus was part of the young wave that took on export company Lerøy. It was a company that was going to change a lot in the years to come.
"If one is to do well as a broker, then there is extremely much work. A lot of wear and tear. We worked 16 hour days for long periods. But Lerøy was also good at giving us accolades for good results, bonuses and options. We were never concerned about pay. We had extreme loyalty. It was more than an ordinary workplace," he said.
Exit
Aarhus left Lerøy along with several others in the wake of Ole-Eirik Lerøy's exit after the hostile takeover of Austevoll Seafood in the autumn of 2009. First went Øyvind Fossøy. Gradually others went such as Alf-Helge Aarskog, Ivan Vindheim, Ola Brattvoll  – as well as several others.
"The reason I left Lerøy was that it was an incredibly exciting idea to build a new export company," he said.
The road for Aarhus went to Ocean Quality, owned by Grieg Seafood and Bremnes Seashore. The company was started in Bergen in 2010.
"I started it from scratch. Well, not alone, I had a board to deal with, but me and Øyvind Fossøy thought quite similar. We set up operating systems with accounting, together with the other employees of Ocean Quality. Ocean Quality has since started or developed three different fish brands. It was a lot of fun and gave good results. Ocean Quality also started Ocean Quality UK and North America during the period, which produced good results for the owners," he said.
"I was there for eight years, and resigned in the summer of 2017. It was a nice ending. I had added what I could add, had begun to get bored, and wanted new challenges," explained Aarhus.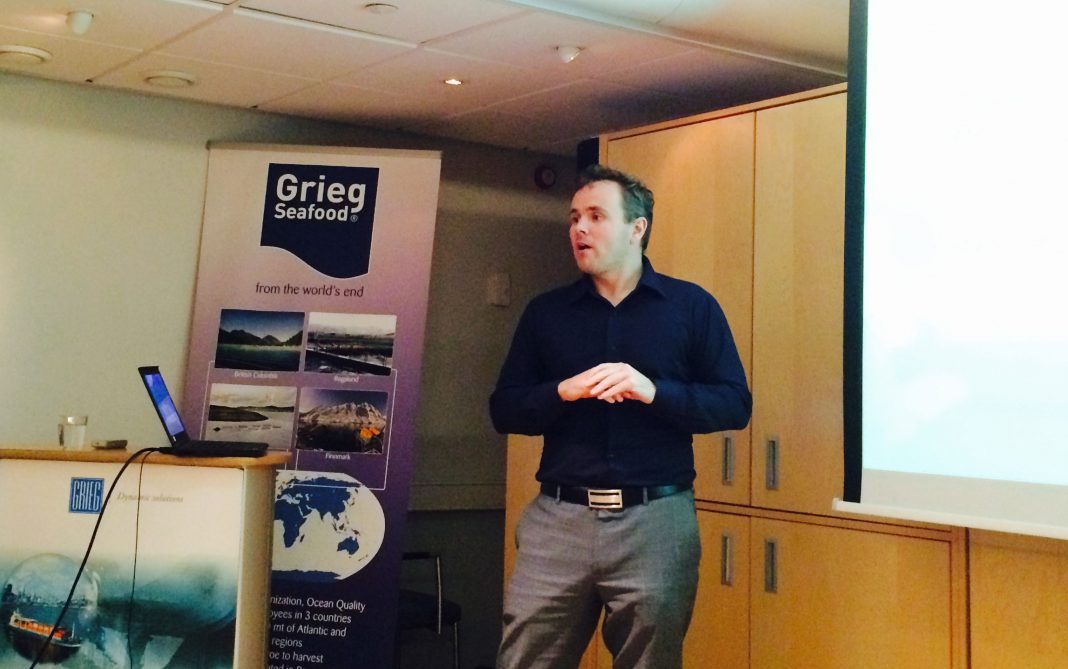 Brands
He then found opportunities again in Iceland.
"I resigned on July 4, 2017, and informed the employer that I was going to a competing company. The intention was always to create an Icelandic sales cooperative. Therefore, since I had not received the signatures at the end of August 2017, I decided to create PCG Import Assist as a backup, a solution in case the signatures of Icelandic companies were to expire".
"I took on some trade. It wasn't planned".
During 2018 he sold fish for EUR 30 million. Most of it from Iceland.
"I am half Icelandic and have traded Icelandic salmon since 2002. I speak Icelandic and have a real estate company in Iceland. I also traded Icelandic salmon in Lerøy and Ocean Quality. The idea was to create a company to export the country's salmon as a brand. Now there are five players. No one has fish at the same time, they have different harvesting patterns, different size of the harvest, sales cost per kilo and resources for branding separately and so on. Having a joint sales organisation is difficult. I knew the Norwegian and Icelandic fishing industry. I was going to unite this into a kind of sales cooperative. But things started to change. I did not want to start and only buy and sell. It became difficult to get these players to work together, and eventually it was impossible to build a sales organisation and develop Icelandic salmon as a brand," he told SalmonBusiness.
Take over
"I had a company, but it was not intended to be a sales company. It was supposed to be an Icelandic company. So I just acted normal. I traded some Norwegian and some Icelandic salmon. Then Norwegian companies took over a larger and larger share, and instead of choosing long-term solutions, it becomes a trading solution for Icelandic salmon with many different sales companies. In such a situation, it will be very demanding to build Icelandic salmon as a brand," the exporter said.
He does not hide that his heart is in Iceland and its burgeoning aquaculture industry. But developments have gone in a different direction than he had hoped.
"When you've been doing this for a long time, like me, you see that it's going to be everyone's fight against everyone, instead of building a brand. A dog fight. And the difference between Icelandic and Norwegian salmon is disappearing. It will be like the Faroe Islands were before, where Faroese salmon was sold cheaper than Norwegian. Unlike the Faroe Islands, Iceland has also been banned from Russia and China."
"I had been involved in building up sales companies from the bottom up, but it just wouldn't," said Aarhus clearly disappointed.
"I had a good year and I am happy with that. But I did not get what I tried to do. That's the truth, after all. Building a regular Norwegian export company was no issue".
Year off
After an exceptionally busy year, this year has been pleasant.
"Now I've had a year off. I've been with family. On bear hunting in Canada, safari in Namibia, sailing in the Mediterranean. Has been skiing a lot. I haven't spent any time trading fish, neither Norwegian nor Icelandic, this year. I take on small assignments here and there.
"Last year was a lot more work and extremely much more risk. A hectic pace. I had fish everywhere. I did everything myself. Purchasing, sales, quality – everything," he said – before adding that he gets amazing support from his wife: "Ingelill is good at structure and system. She's a pharmacist".
"Everything is a balance between return on capital, workload and risk".
Business runs in Aarhus' family.
"My father is a business economist and has worked in various jobs in finance. I grew up in Germany, lived there for five years." He then moved around Norway before eventually moving to Tromsø, Northern Norway. Then to Sotra – just west of the city of Bergen.
Busy
It seems that Aarhus has now put down roots. With everything he has done on fish, he and the family have to make it.
"With real estate, a small pharmacy and a little consulting, that's enough. I don't have to sell fish. I drive Skoda and have a house on Hjelteryggen," he grinned.
"If you have to endure, you have to work a lot".
SalmonBusiness had been trying to reach him for this talk for several days. He was busy. But not with fishing exports.
"I used jumped parachute from morning to night. I started jumping when I was 17, now I'm 44. You can die if you don't do it right, have the right focus," he said firmly.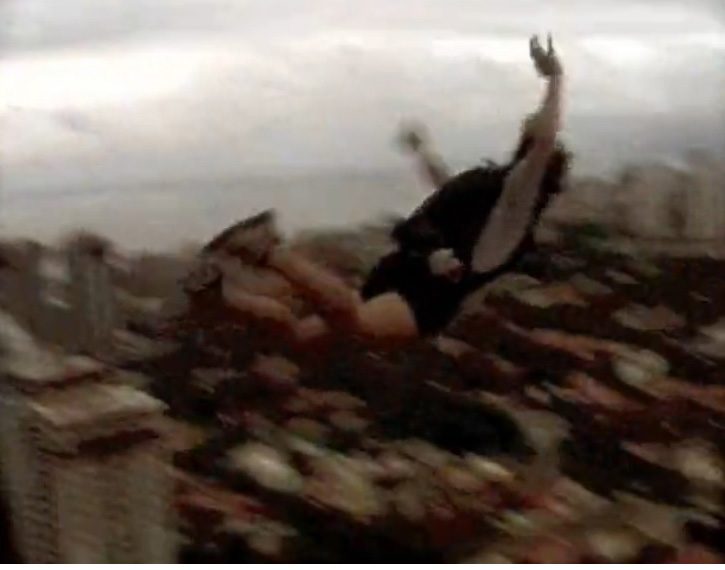 "Risk assessment is extremely important, especially in base jumping. It is not systems or programs that capture it. You need to consider a lot of factors such as weather, equipment, skills, location, landing areas and how to react if the unforeseen happens."
Drilled into your head
"You must have a Plan A, which is most likely, with some outcomes. Then you need to have Plan B ready, and if something else happens, Plan C. This must be drilled into your head. When that happens, one must consider maybe 100 decisions in one second and respond immediately. Based on probable outcomes, what is likely and less likely to happen. In business, you have much more time for everything, and the outcome is not deadly, so you have to be ready to do the right things. Be used to respond to risk. This has helped me throughout my professional career."
He has seen death up close. Many times.
"When I was 26, I had 19 friends who had died. Many of them I had watched die, so you get a different relationship with risk.
"I was very conscious of what I was going to do, and what kind of gain I needed to do it. I quit base jumping in 2006. By then I had been doing it for 11 years. What matters is what I get out of it with excitement and joy – and what do I have to pay in terms of risk and injury.
"I was at Karlsgårdtind in Romsdal, (a mountain on the northernmost part of Western Norway) stood at the top, and thought: Now I will do the same thing over and over again. If these are my thoughts, it's not worth the risk. I jumped down, dried and packed the equipment, and was going to have a long break.
"We had a climbing accident in Jotunheimen (a mountainous area in Eastern Norway). And My wife nearly died. She suffered 14 fractures, lost two litres of blood, and had to build up her right hand in steel. Then we stopped. And had another daughter," said father of three.
After a family council, he still has two exceptions.
"In my eyes, parachuting and paragliding are not dangerous, so I am allowed to continue," he said.
Risk
He does not hide the fact that the base-jumping environment has struggled with a cowboy risk.
"When I started with base jumping there were less than ten people that did it all over Norway. Now there are many others, around 100-150. I made long preparations before my first base jump, in a year and a half. I travelled to the United States and checked equipment. I jumped in rope on the Hagelsund Bridge in Øygarden (Western Norway). I've had over a hundred jumps from planes. After a year and a half of preparation, it ended in my first base jump – which went well.
"I think what I learned from base jumping about careful preparation, risk assessment, and always having a plan for what to do if things don't go as planned has been useful working life and contributed to things going well.
His professional life has gone by without any accidents but not base jumping.
"Eh … no, I've got the left foot built up in steel. This is due to a fall after base jumping in Tromsø. But without good preparation and plan, this could have been deadly".
What was your motivation for parachuting and especially base jumping?
"The need for excitement and stimuli, the combination of it. The fascination of doing something seems impossible in a safe way. By intellect and training remove the risk elements. Do something that very few in the world can do safely. Feeling mastery," he said enthusiastically.
"Same as I did with Ocean Quality. Getting two salmon farmers to work together in a sales organisation, going from zero to two billion (EUR 200 million) in sales in one year and doing profitable trading from the first year has many of the same elements. I'm pretty proud of what we got there".