Salmon farmer says that it harvested large amount of fish when spot prices were at its lowest point.
SalMar posted it latest Q4 results on the Oslo Stock Exchange on Wednesday morning, with an operational EBIT of EUR 64.5 million compared with EUR 91.7 million in the same period in 2018.
The salmon farmer generated EUR 314 million in operating revenue, up EUR 8.4 million on the corresponding period in 2018.
A total of 40,300 tonnes of salmon was harvested in the quarter, 200 tonnes less than in the same period the year before. SalMar's Operational EBIT per kg came to EUR 1.6 in the fourth quarter, down EUR 0.6 per kg on the fourth quarter 2018. The decrease is largely attributable to weak price achievement due to harvesting when prices were at their lowest in the quarter.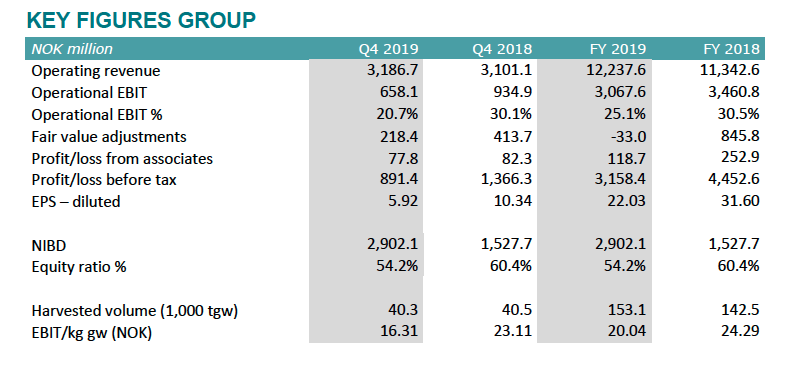 "The fourth quarter was weaker than expected for the SalMar Group," said the Group's CEO Gustav Witzøe. "This is largely attributable to the Fish Farming Central Norway segment harvesting a large volume of salmon at the start of the quarter when the spot price was at its lowest point. At the same time, it is satisfying to see that our Fish Farming Northern Norway segment posted substantially better results after several weak quarters."
Icelandic Arnarlax ended 2019 with yet another positive quarter, "driven by good biological performance and better capacity utilisation at its harvesting plant" it wrote.
For the year as a whole, Arnarlax achieved a 46 per cent increase in the volume harvested and posted an EBIT per kg of EUR 1 compared with an EBIT per kg of EU -1.1 in 2018.
"Arnarlax expects a higher harvested volume and higher costs in the first quarter 2020 due to the harvesting out of the 2018-generation following increased mortality in a demanding period caused by winter storms at the start of the year," added SalMar.
SalMar maintains its expectation to harvest 152,000 tonnes of salmon in Norway, whereas 103,000 tonnes in Central Norway and 49,000 tonnes in Northern Norway and increases harvest expectations from 10,000 to 12,000 tonnes on Iceland. Scottish Sea Farms (of which it co-owns with Leroy) is expected to harvest 26,000 tonnes in 2020.