On Tuesday, Faroese salmon producer Bakkafrost reported an operating profit of DKK 120 million (€16 million) for the final quarter of 2021.
The result is way below expectations. An operating profit of DKK 174 million (€23 million) was expected in advance for the quarter, according to estimates obtained by Infront.
The company harvested 25,800 tonnes of salmon, of which 20,700 were from the Faroe Islands and 5,100 tonnes were from Scotland.
Biological problems
"The results in this quarter have been negatively affected by the continuation of the biological issues we reported in the previous quarter and gave an update on in our profit warning in December. We are now pleased that mortality levels have normalized," commented CEO Regin Jacobsen.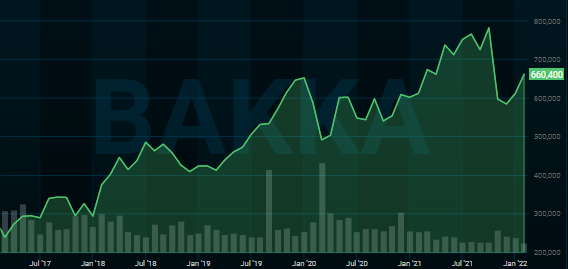 "In the Faroe Islands, we are pleased to have reached record high harvesting
volumes in the fourth quarter and for the full year, despite some challenges we are excited to see record low feed conversion rates and record high weight on transferred smolt.  Our feed operation also sold very high volumes in both the fourth quarter and for the full year."
"We are convinced that our strategy and investments will reduce the biological
risk by ensuring stronger biology, which is crucial to maintain a competitive
operation."
Tight offer
Jacobsen is looking forward to a hot salmon market, characterised by expected negative growth in the first half of 2022.
"The salmon market is very strong. The demand for salmon from all segments has increased significantly in the last quarter, leading to high prices. Compared to same quarter last year, the salmon prices increased around 37 per cent in this quarter, despite higher volumes sold. Looking ahead, the marked situation seems very bullish with tight supply and markets normalising after Covid-19.", he said.
Bakkafrost harvested a total of 97,900 tonnes of salmon in 2021.
The board proposes a dividend of DKK 5.14 (€0.69) per share.
For 2022, the company is estimating a harvest volume of 68,000 tonnes in the Faroe Islands and 35,000 tonnes in Scotland.