The fish feed giants ensure continued farming at Kola.
It arrived in Stokmarknes, Northern Norway, at 0554 on Tuesday morning after a six-day voyage from Murmansk. The 82 meter long feed boat "Aleksander Gusev" is named after an old Russian ice hockey hero.
"The boat is the one that Russian fish farmers use regularly to get fish feed," a well-placed feed source informs SalmonBusiness. He does not want his name revealed.
"It loads at Stokmarknes today with next destination Bergneset," he says.
Delivers
The factory at Bergneset, in Troms, is the US feed giant Cargill's northernmost factory.
While Skretting has long since confirmed that the company delivers feed to the Russian salmon farmers at Kola, Cargill, after a long period of reflection, has neither confirmed nor denied anything.
According to Marine Traffic, at the time of writing, the freighter is moored at Skretting's fish feed factory, close to Nordlaks' processing plant on Børøya, outside Stokmarknes. "Alexander Gusev" carries the Russian flag. The loading capacity, of 1,598 tonnes, is absolutely essential for the salmon farmers at Kola. Without feed, they can not raise fish.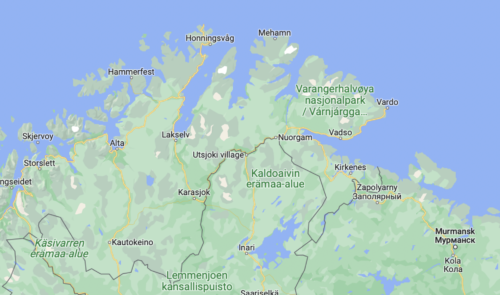 The two leading salmon farmers, Russian Aquaculture and Russian Salmon, are based at Kola. The cages float in fjords controlled by the Russian Northern Fleet. Closest neighbors are nuclear submarines and destroyers. Foreigners have no access. The ties with the Russian defense, which is currently waging a war of aggression in Ukraine, are close here.
And this is exactly what makes the customer relations between the feed companies and the Russian fish farmers controversial.
Supports the war
Earlier today, SalmonBusiness showed pictures of Murmansk Governor Andrei Chibis wearing a black hoodie marked with "Z", the symbol painted on large parts of the Russian tanks, trucks and mobile artillery in Ukraine.
The same attitude is expressed by Pechenga's mayor, Andrei Kuznetsov. He has painted "Z" in several places on his car. Russian Salmon has placed its cages in the Pechenga Fjord.