Company has seen its share price fall sharply in recent years. 
On Tuesday, UK-based biotech business Benchmark Holdings posted its results for the first quarter of 2022.
The results show a 38 per cent increase in revenues. 
Trond Williksen, CEO commented, "Benchmark has delivered an excellent Q1 performance, reporting a 38 per cent annual growth in revenue and 145 per cent increase in Adjusted EBITDA. This reflects an excellent performance in Advanced Nutrition, continued good performance in Genetics and the benefit of revenues from the recently launched Ectosan Vet and CleanTreat in our Health business area."
"We are performing in line with market expectations for the full year, with building momentum in our commercial, operating and financial performance in all business areas. The positive market environment in our core species, our leading market positions, together with our focused strategy and financial discipline positions the Group well to reach profitability and deliver growth."
Net losses increase
Although the company reports positive figures at EBITDA level for all segments, the operating profit (EBIT) is -£1.5 million.
The operating loss halved, but net losses increased due to negative non-cash movements of £4.9 million in net financial expenses (Q1 FY21 had benefited from £2.5 million in foreign exchange gains and £2.3 million revaluation of hedging instruments related to NOK- bonds), the quarterly report states.
The net result was -£5.1 million pounds during the period.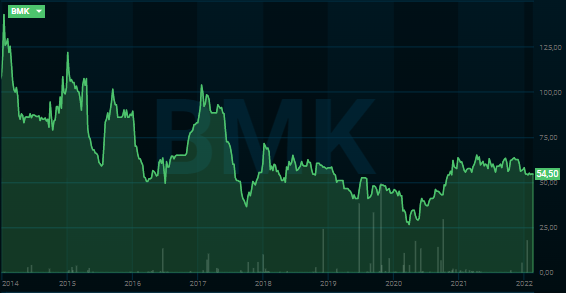 Reduced
Benchmark, which among other things owns the breeding companies SalmoBreed and Stofnfiskur, has seen its share price fall sharply in recent years. 
During 2021, the company reduced its net debt to £64.3 million following an increase in equity in November. The company has a cash position of £50.6 million as of 21 February 2022.
Benchmark is listed on the London Stock Exchange. Its two largest owners are Norwegian Ferd and Kverva, owned by the two billionaire families Andresen and Witzøe.