'Stop Alaskan Plunder' demands the author of a new report that blames the decline of salmon in British Columbia on the province's northern neighbour. 
Canadian and US representatives are meeting this week at the Pacific Salmon Commission — the agency responsible for the bilateral management of fish stocks of mutual concern under the Pacific Salmon Treaty.
One issue that will be raised is that of commercial fish harvesters in southeast Alaska netting significant amounts of threatened British Columbia salmon even though the bulk of Canada's Pacific fleet is stranded on shore to conserve plummeting stocks.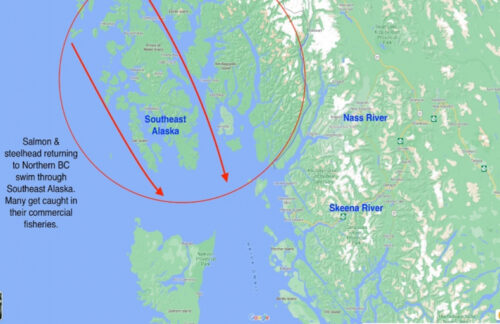 The decline of salmon runs in Canada's westernmost province had been blamed squarely on salmon farming but a new study indicates that nearly 800,000 sockeye were caught in Alaskan fishing districts just north of the border in 2021, and most of those fish would be headed for BC waterways, in particular the critical Skeena and Nass river systems that are suffering low returns.
Read more: Salmon farmers ask for more time, as report calculates Discovery Islands 'devastating' decision will wipe out $390 million in annual economic output
Some of BC's largest salmon runs navigate the waters of the Alaskan Panhandle just north of BC as they return to Canadian rivers to spawn. Speaking to the Canadian National Observer, fisheries expert and one of the authors of a new technical report for the Watershed Watch Salmon Society and SkeenaWild Conservation Trust, Greg Taylor explained that genetic testing has previously suggested that 75 per cent of the Alaskan catch may involve Canadian-bound salmon.
Meanwhile, 60 per cent of the BC's commercial salmon fleet was shuttered in June by former federal fisheries minister Bernadette Jordan in a dramatic bid to save the Pacific salmon.