"Covid-19 has created a new situation, but PRFoods has never had to stop production."
The Estonian company PRFoods, which owns a range of fish farms and smokers including Aberdeen-based John Ross Jr. and Coln Valley Smokery, posted its Q3 report on Tallinn Stock Exchange.
Revenue was EUR 18.5 million euros, up 2 per cent compared to the same period of the previous year (Q1 2019:  EUR18.2 million).
Operating loss EUR 1.43 million, lower than Q3's EUR 1.01 million.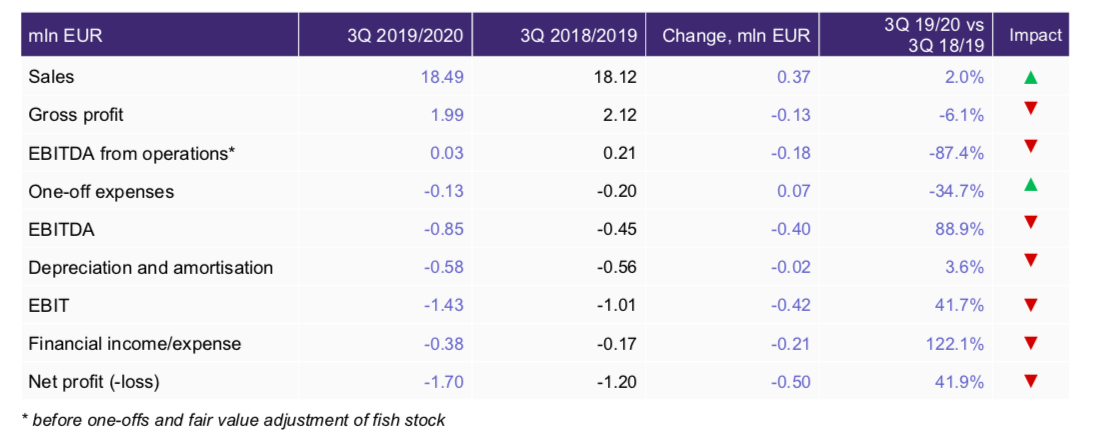 "The end of the quarter brought a global pandemic to our key markets, and restrictions of the states of emergencies declared began to take effect. HoReCa ( share of 25% of the Group's turnover .ed) restrictions and a drastic reduction in air transport had a significant impact on turnover as early as at the end of March. Also, as during any crisis, customers made changes to their food baskets in favour of cheaper products," said Chairman Indrek Kasela.
The company sources 2/3 of the raw fish used in the Group's rainbow trout production from its fish farms in Swedish lakes, Turku Archipelago area in Finland, and in coastal waters of Saaremaa in Estonia. The rest of raw fish is purchased mainly from Norway and Denmark. It acquired John Ross Jr. and Coln Valley Smokery in 2017.
Sales of fresh fish and fillets have been higher than usual in the aforementioned period, while the margin of fresh fish is about twice lower than the margin of smoked products. Kasela said that prices had the biggest impact.
"At the end of the reporting period, the market price of salmon has decreased by 31.1 per cent and the price of rainbow trout by 32 per cent compared to a year ago. Compared to the price two years ago, the price of salmon has decreased by 43.2 per cent and trout has become 31.7per cent cheaper. Compared to the end-of-period price three years ago, the price of salmon has fallen by 33.7 per cent and the price of trout by 43.9 per cent.
"We estimate that we will see low fish prices for 2020 as a whole, due to declining demand for HoReCa. This is definitely good news for consumers. Despite increased production volumes and demand for some products, lower prices do not allow such a large profit to be made in absolute terms. At the same time, the lower price allows to significantly increase export volumes. Considering the situation, we look more optimistically to the future than at the end of the 3rd quarter," Kasela concluded.