EUR 2 price premium for air-packed salmon.
Salmon prices have had a great start to the year. Average prices are the highest ever achieved since the mid-1980s.
Especially high are prices for the heaviest salmon.
"Flying fish"
Large fish is particularly in demand for aircraft cargo for customers destined in overseas markets.
According to Akvafakta, salmon over six kilos has been traded between EUR 9 and 10 (FCA Oslo) for each of the past three weeks.
Large salmon is so in demand that it has achieved prices of almost EUR 2 above the average salmon.
For the past three weeks, the average price for all weight classes has fluctuated between EUR 7.7 and EUR 7.8 (FCA Oslo), Akvafakta reported.
Severe weather
And the price hike will continue.
Salmon prices for the current week, which SalmonBusiness reported on Friday, was also "well up in the 70s (EUR 7)".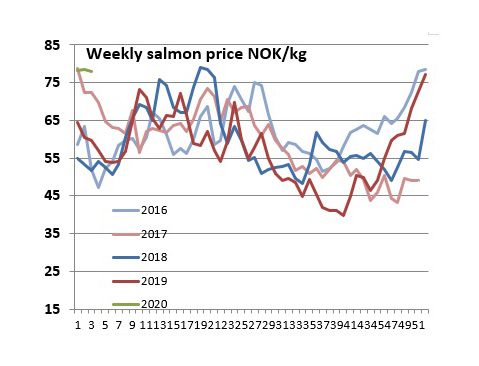 High prices in early January have been characterised by some very bad weather around the North Sea basin, where the majority of the world's salmon are farmed.
Both Scotland, the Faroe Islands and much of the Norwegian coast have struggled with strong winds and demanding conditions on the sea. In addition, many ferry routes and mountain crossings have been closed to traffic for extended periods. This has made it difficult to get the salmon out to customers in the international market.
Strong spring rates too
Reduced supply coupled with strong demand is ensuring high spot prices.
According to the Fish Pool salmon exchange, the price hike will continue for a good while.
Their June contract is now at EUR 6.7 (for three to six kilos of salmon).