"The final outcome of the crisis is yet to early to predict".
Nova Austral released its Q1 report on the Oslo Stock Exchange on Monday. EBIT increased USD 1.7 million from minus USD 0.8 in 2019 to this year's USD 0.9 million.
Revenue increased 65 per cent. This year it was USD 38.5 million compared to Q1 19's USD 23.3 million.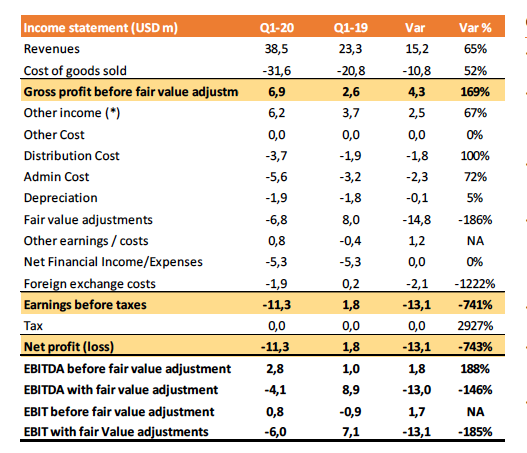 "The decrease in the value of biomass is because Nova Austral has harvested and has less stock of fish in the water, and to a lesser extent, due to the decrease in market prices," said a Nova Austral representative to SalmonBusiness.
In 2019 the salmon-farm company located on the far southern tip of Chile, half-owned by private equity giant Bain Capital, was at the centre of a data rigging scandal.
The salmon farmer has incurred an increase in admin costs due to legal advice which cost the company USD 3 million. A new criminal case against five individuals (including former managers of the company) is ongoing.
"Unfortunately the Covid 19 situation has impacted the life of our dear customers and our business last months salmon sales, in general, are going quite well due to uplift in the retail segment globally, but the final outcome of the crisis is yet to early to predict," wrote its Board of Directors.
Read more: Salmon farmer workers being investigated over subsidy fraud