A scaled model of a closed-containment fish farm from Norway dubbed Marine Donut is due to arrive in St John's, Newfoundland this week to be trialled in a local salmon farm, with the eventual aim of building a full-scale model in the province for ocean trials over the next growing season.
"We are still speaking with various farmers to collaborate on sea trials using existing licenses. We have also been speaking to regulators and government agencies about application of licences ourselves. The first phase is to test the 1:10 model for the unique environmental conditions such as wave and tides of Newfoundland, Nova Scotia and New Brunswick," said Mark Lane, former executive director of the Newfoundland Aquaculture Industry Association, on behalf of Marine Donut developer, the Bluegreen Group.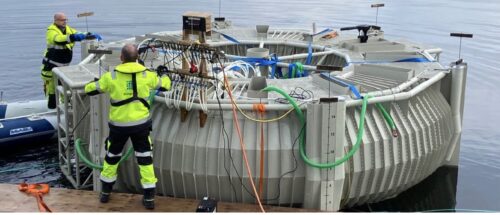 The Marine Donut is a semi-closed breeding unit shaped like a donut, which at full scale has a capacity for 1 million fish up to 1kg depending on its application as a post-smolt facility or grow-out. The main structure is made of high-density polyethylene (HDPE) which acts like a tight barrier against the external environment to prevent lice infestation and infection into the plant.
Bluegreen Group established a Canadian company, Bluegreen Canada, to introduce the closed-containment technology to salmon farmers in the Americas.
"We are excited about introducing our solution to the province of Newfoundland and Labrador with full intent to scale to other jurisdictions throughout the Americas" said CEO Nils-Johan Tufte.
Newfoundland is particularly a tough environment to farm salmon. Biological and environmental headwinds reduced the province's salmon yield by 6 percent to 14,167 tonnes in 2019 from the previous year. This contracted further, by roughly 45 percent, to 7,802 MT in 2020.
"I firmly believe that Bluegreen's Marine Donut has enormous potential to reduce biological, environmental and political pressures," said Lane.