"People don't worry about price too much, its quality all the way."
Earlier this week, analysts at Deutsche Bank issued the grim prediction that the UK economy is beginning to experience a protracted period of sluggishness, dragged down by the cost of living crisis and triggering a pull back in consumer spending.
Meanwhile, the  British Retail Consortium (BRC) has published figures showing a decrease in retail footfall of 17.1 per cent year-on-two-years (Yo2Y) for January.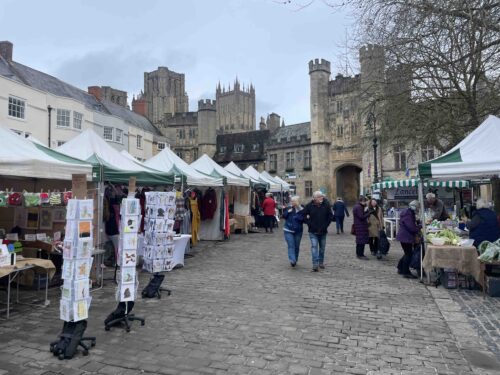 But on a visit to the cathedral city of Wells in Somerset, you wouldn't know it. Wednesday morning at 9am and the market is already starting to get crowded, despite the city's tiny population of just 9,000 people.
The market in England's smallest city was first granted its charter by Bishop Robert of Lewes (1136–66) and it is a safe bet that salmon have making an appearance in one form or another ever since. The nearby abbey at Glastonbury is known to have farmed fish at a large scale since at least the 13th century.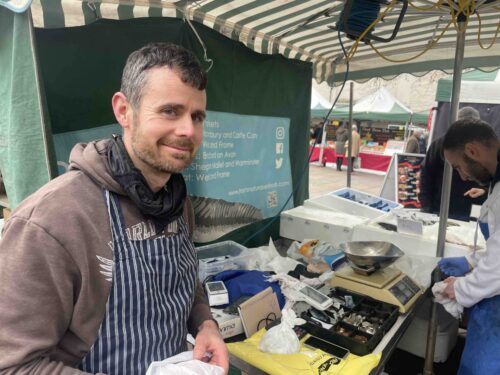 On Wednesday, the busiest trader in the market is specialist fishmonger Hart Natural Seafoods. Originating in the 1930s with Theodore Hart, the small family owned company has been operating out of its current location on the Westfield Trading Estate in Somerset since the 1980s when it started selling fish on open air markets in Somerset and Wiltshire: in Glastonbury, Castle Cary, Wells, Frome, Bradford on Avon, Shepton Mallet, and Warminster.
Today the company is run by Theodore's grandson Paul Hart and his sons Chris and Ben. The latter of whom took a moment away from the long queue of eager customers to talk to SalmonBusiness.
"I get all the fish from Grimsby, we buy it in every day and it is sent down over night," says Hart.
We are ready for another busy day at Wells and Frome markets today, there are lots of lovely Cornish mackerel, Lemon Sole, Brill, and plenty more but as ever come as early as you can to avoid disappointment 🐟🦀🦐 #loveseafood #EatMoreFish pic.twitter.com/CCr3mBRaX2

— Harts Natural Seafoods Ltd. (@HartsNatSeafood) February 5, 2022
Despite the gloomy predictions for the UK hughstreet, Hart is optimistic, "People are going back to work and they can't always make it to the market, but things are going good."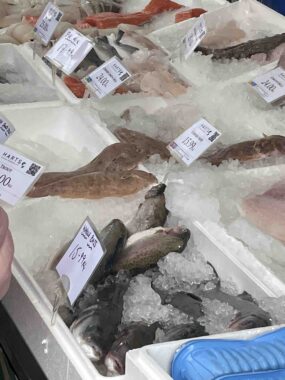 "When lockdown came, sales doubled as people couldn't eat out and they were willing to spend a bit more on food as they were spoiling themselves at home instead. Now, it's still up."
Another good sign is that people are still prioritising quality above all else, as Hart says of his salmon, "They don't care if its Scottish or Norwegian. As long as its fresh and a good quality, that's all that matters. People don't worry about price too much, its quality all the way. Alway nice big fat healthy fish, no marks on it, that's the main thing as it means its not over stocked."
Another stall at the market, Mere Fish Farm, which sells smoked steelhead trout and patés made from fish farmed just over the county border in Wiltshire is similarly upbeat, as the smallholder says, "Things are definitely better. At the markets it's a lot busier than it was at this time last year."
"The big loss for us was hotels, restaurants, shops and cafes. But its definitely better now."