From the first generation, the Aquatraz G2 has a number of changes that make operations easier, safer and more cost-effective.
Aquatraz is a rigid, durable cage developed by Seafarming Systems in close cooperation with salmon farmer Midt-Norsk Harvbruk (MNH). In April 2017, the latter company received four development licenses to develop the system. MNH has so far started using two Aquatraz cages. The first fish from the Eiterfjord site in Nærøy, Central Norway, was delivered earlier this year.
Today, the third cage is delivered to MNH at Fosen Yard. The cage will now be towed north to the Namdal coast before being put into operation at the Kyrøyan site in Vikna municipality.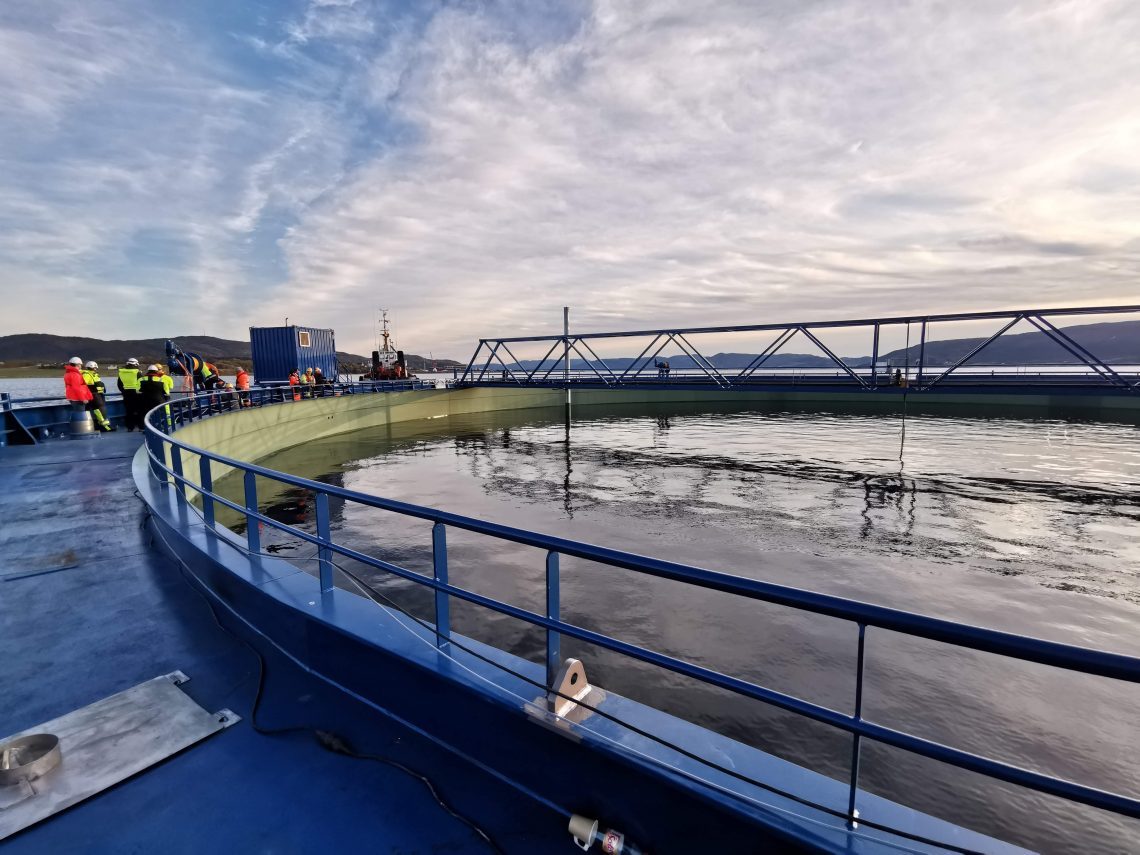 With today's delivery, MNH is using a new and further developed version – G2 (second generation) – of the semi-closed cage concept.
"We have brought with us all experiences from the fabrication, design and operational operation of the first two cages," said Steingrim Holm, who heads the Aquatraz project at MNH.
The Aquatraz G2 has a number of improvements from the G1. Among other things, the smokers are given easier access to the cage volume. Wider walkways further improve the working environment and a new electric lifting system enables lifting and lowering of the cage without energy supply from a boat. The Aquatraz G2 is also more manufacturing-friendly than its predecessor.
"The rigid steel structure enables easier assembly of equipment on the cage. At G2 we have taken this a step further, with the possibility of mounting one or more ten-foot containers on the walkway," says general manager, Alf Reidar Sandstad, of Seafarming Systems.
MNH equips the newest addition to the Aquatraz venture with two containers, which, in addition to storage space, leave dry space for the unit and electrical cabinet.
"The collaboration between Seafarming Systems and Midt-Norsk Havbruk has been very constructive. I have great expectations that the development project will achieve the goals of less lice spreads, fewer escapees, a stronger working environment and better fish health," says Holm.
The first results from the comprehensive biology programme in the Aquatraz project are expected at the turn of the year, but Holm concludes that the Aquatraz design has dampened the lice pressure.
"We had significantly less lice spread in the Aquatraz cage than in the reference cage," Holm says.
The Aquatraz cage number four is scheduled to be delivered in December.