Consolidation in Chile.
José Ramón Gutiérrez, Chairman of Chilean salmon farmer Multiexport Foods, announced today that US feed giant Cargill has agreed to purchase 24.5 percent of the shares of Salmones Multiexport (Multi X), the subsidiary of Multiexport Foods. In turn, Mitsui, a shareholder of Multi X since 2015, will increase its shareholding by 1.13 percent, to 24.5 percent.
Multiexport Foods maintains control of Multi X with 51 percent of the total shares.
According to Reuters, Cargill has agreed to pay USD 290 million for the shares. Multiexport Foods is set to receive a total USD 303.3 million.
The transaction is subject to certain regulatory approvals and the fulfillment of conditions agreed by the parties.
"Adding Cargill as a new partner of Multi X will be a strategic and decisive step in the next stage of development of the company and its purpose to win over the world's consumers with highquality, value-added, sustainable products sold under our brands 'Multi X', 'Arka' and 'Latitude 45'," said Gutiérrez.
"We welcome Cargill, with their 156-year track record of growth and success, as well as a purpose and values that align with ours," Gutiérrez stated. "Together with Cargill and Mitsui, and our talented and passionate collaborators, we will combine capabilities and strengths for a sustainable development of Multi X and deepen our commitment to the southern regions of Chile," he emphasized.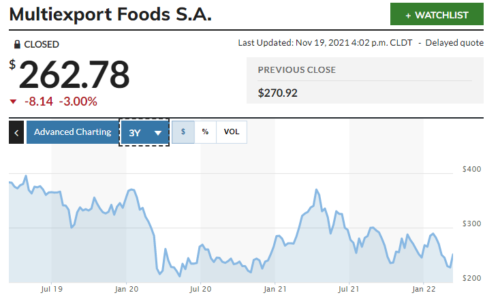 "At Cargill, we seek to be a differentiated leader in the seafood industry, combining innovation with operational excellence to enable greater affordability and integrity of supply chains for our customers and consumers," said Tim Noonan, managing director for Cargill's seafood business.
"This partnership is an important next step in the development of our seafood strategy and will leverage our capabilities across the value chain, including consumer insights, culinary innovation, value-added processing know-how, risk management, and fish nutrition and health solutions. As a result, we hope to provide more customers and consumers with access to Multi X's high-quality portfolio of private label and branded salmon products."
"We are confident that this partnership represents a powerful union of three companies that believe in making affordable seafood more available to consumers worldwide, while protecting our oceans and improving the communities in which we operate," said Shuichi Matsuzawa, senior vice president of Foods & Retail Division of Mitsui USA.
"Bringing together the unique capabilities of Multiexport Foods, Cargill and Mitsui will create value for all of Multi X's stakeholders."
With 2,600 collaborators located in productive facilities between Araucanía and the Magallanes Region, and a commercial office in the United States, Multi X are present throughout the salmon production chain – from breeding to distribution of salmon to consumers in more than 30 countries.