The vessels are built in aluminium, and will be delivered in the second half of 2023 and in 2024.
"In AQS, we place great emphasis on sustainability and the long-term, therefore we have chosen electric-hybrid propulsion. Aluminum hull makes the boats lighter and increases the electric range. In this way, we will help reduce greenhouse gas emissions," explained Ove Løfsnæs, general manager of AQS, in a press release.
Sustainability and reduced climate footprint are also a focus area for Moen Marin. The forecasts for 2022 indicate that well over half of the new buildings that Moen Marin will deliver next year will have electric or hybrid propulsion.
"For us, the boats from Moen Marin represent a nice mix of innovation and robustness. Moen Marin stands out in the market with quality and professional aftermarket, combined with the ability and willingness to green innovation," said Ove Løfsnæs.
Sustainability and working environment
The company and the vessels' easily recognizable green profile color is no accident, because Ove Løfsnæs and AQS intend to take an active part in the green shift, both at sea and on land. The company from the Namdalen coast uses, among other things, electric cars where possible.
"We have decided to roll up our sleeves and participate in the charity event that the UN and the climate summit in Glasgow requested. Then we have to do things in new ways, and we have to use new technology that contributes to the green shift," said Ove Løfsnæs.
Another priority focus area for AQS is the working environment. The new boats are therefore built with the crew's living conditions and well-being in mind. Great emphasis is placed on noise reduction measures and one-man cabins on their own cabin deck above deck level.
Large catamarans
The first two vessels will be delivered in the autumn of 2023. One will be a 26m long and 12m wide catamaran with an industry-leading 726 kWh battery pack. The vessel will have two electric motors that provide 575 kW for propulsion, and will be equipped with two cranes: a PFM 2500 of 184.1 t / m and a PK 150002 of 105 t / m.

The second vessel will be 21m long and 12m wide catamaran and will have a battery pack of 726 kWh. The vessel gets two electric motors that provide 575 kW, and the boat is equipped with two PK 150002 cranes.
"These boats will be the coast's workhorses, with large cranes, full SHM deck package, and industry-leading towing power of 26.6 kN and 21 kN bollard pull, respectively," explained Kristian Hjertvk, technical manager at AQS.
"There is currently a lot of activity at Moen Marin, and we have a solid order backlog for several years to come. I would like to thank Ove Løfsnæs and AQS for their excellent cooperation and for once again showing us trust," said Terje Andreassen, CEO of Moen Marin.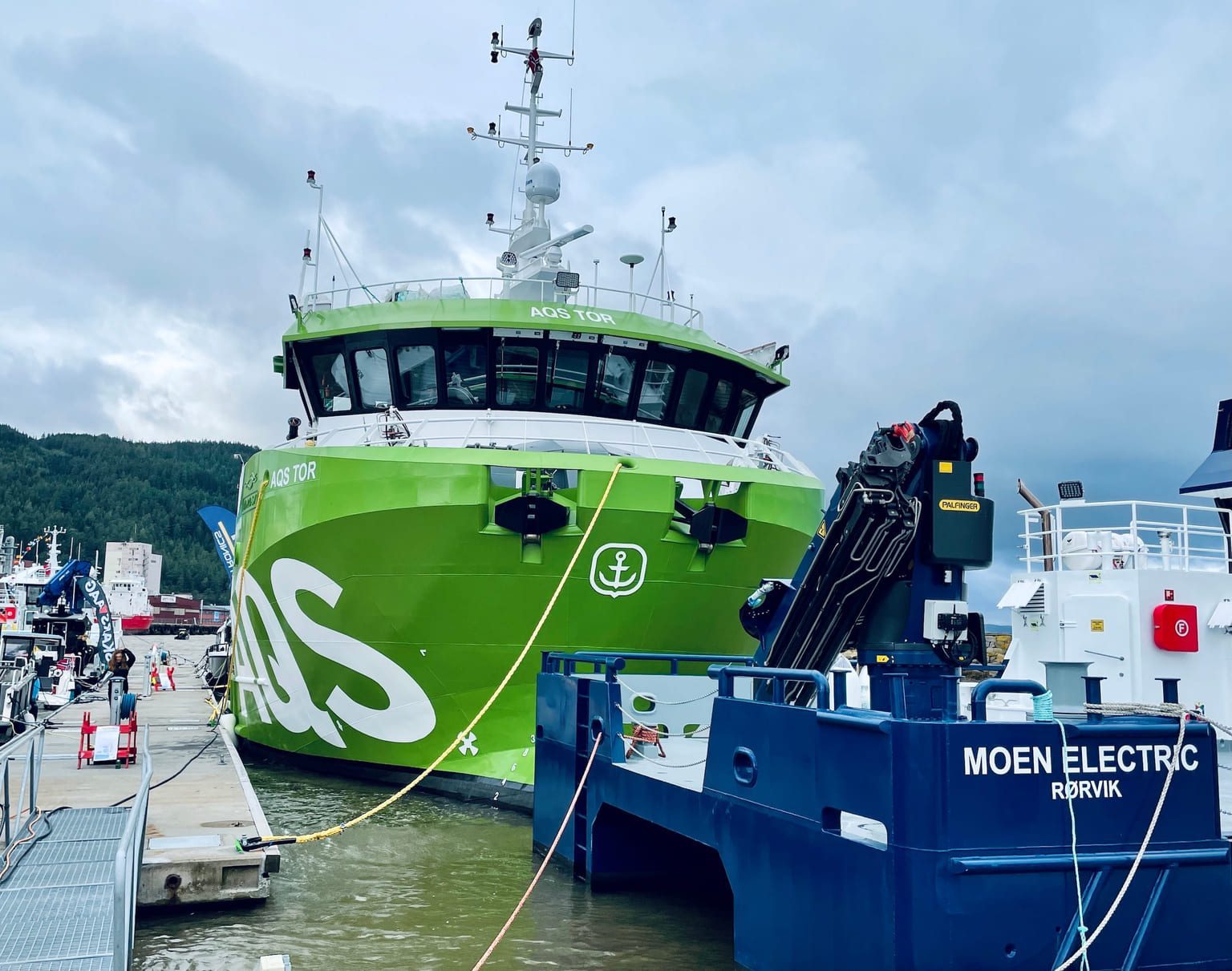 Follows in the wake of "Tor"
In April this year, Moen Marin delivered the 24 meter long service boat "AQS Tor" to AQS. It became a national celebrity when the cargo vessel that was to transport it from the yard in Croatia ended up in a storm off the west coast of Norway and the "AQS Tor" launched itself from the deck, but it was later salvaged and repaired. The readers of SalmonBusiness sister site iLaks declared "AQS Tor" 'Norway's toughest service boat'.