Mowi Chile has put into operation a brand-new feed barge for its farms in the Aysén region.
The vessel, named Omega, has a capacity for 600 tonnes of feed, 40-m3 of silage and room for 20 people. Amenities include large common spaces on board, including meeting rooms, living rooms and a gym.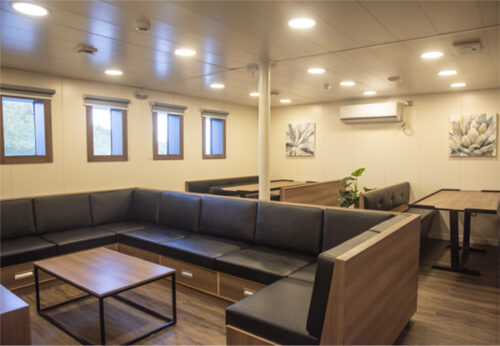 To help reduce carbon emissions, the vessel has hybrid power options, including rechargeable lithium batteries.
Omega will carry out its first production cycle in Mowi Chile's Tortuga farming center in the Aysén region, according to  local Chilean media.
Sitecna shipyard manufactured the barge that has since been certified to the Norwegian DNV-GL standard.
"This is the standard that we want to define in the future for all our pontoons. It is a very modern pontoon, with plenty of technology and, most importantly, with a lot of comfort to house our work team, so we are very happy," said Fernando Villarroel, general manager of Mowi Chile.