In an otherwise red stock market, Mowi's share price rose by just under one per cent, moving past NOK 250 for the first time ever. It gives Mowi a market capitalisation of €13.1 billion.
There has been no company-specific or course-driven news from Mowi so far today.
Mowi has long since moved past NOK 235, the price target set by Pareto Securities. The investment bank has a Hold recommendation on the stock.
"Our price target refers to the 18th and 16th times for the 2021 and 2022e EPS, respectively (earnings per share – editor's note)", Pareto wrote in its preview report for the third quarter.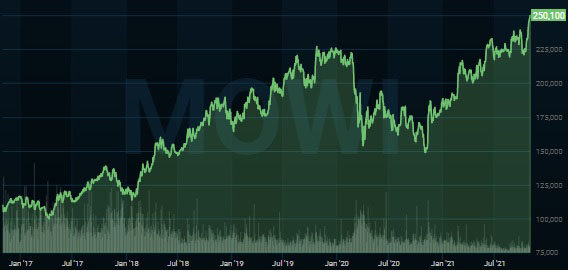 According to TDN Direkt, on Thursday, another investment bank, Kepler Cheuvreux, upgraded several fish farming companies. The price target for Mowi was set at NOK 260 – which means an upside of NOK 10 today.
Share Recommendation (formerly) Price target (formerly)
Mowi Buy (hold) 260 (235)
Bakkafrost Buy (hold) 865 (750)
Norway Royal Salmon Buy (hold) 213 (210)
Salmones Camanchaca Buy (hold) 54 (50)
Lerøy Seafood Buy 100 (95)
Salmar Buy 730 (650)
Grieg Seafood Buy 125 (115)