Warm seas and big salmon provide more fish to sell.
A week ago, the Directorate of Fisheries reported a sharp jump in Norwegian salmon biomass. This is now confirmed in Seafood Norway's most recent Akvafakta report. It was reported that biomass in Norwegian fjords has grown to 837,000 tonnes at the end of October/November. This is an increase, year over year, of eight per-cent.
The cause of the biomass jump, in particular, is down to a significant increase in feeding. Feed consumption is estimated at 229,000 tonnes, an increase of 15 per-cent from the same month in 2019.
Mild seas
At the same time, exports increased by four per-cent in the period.
In October, the salmon farmers fed significantly more than they took out fish from the cages. This gave a significant net increase in inventories.
A major reason for higher feeding is that it has been, and remains, mild in the sea along the Norwegian coast. The average temperature in October was 11.2 degrees, 0.6 degrees warmer than in October 2019, the report showed.
Big fish
At the same time, the average weight of the fish is higher. Big fish eat more feed. At the end of October, the 2019 generation had an average weight of 3.4 kilograms – more than the 2018 generation had at the same time last year.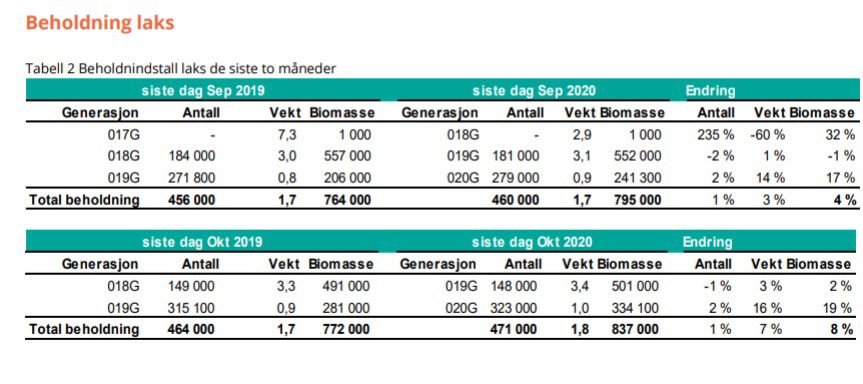 Above all, a biomass increase means that there will be a lot of fish to harvest in the months to come. A number of salmon farmers have already warned that they will postpone harvest, something one normally does when there is too much fish on the market. This is done to avoid putting further negative pressure on salmon prices.
The catch of keeping the fish longer in the sea is, of course, that they'll gain weight, and there will be even more fish to sell.