Salmon prices are surging.
"105,-", writes an exporter in a text message to SalmonBusiness.
Facts
Every Friday after lunch, SalmonBusiness report spot prices for salmon. These are fish to be delivered the following week. We contact several links in the value chain, including farmers, exporters and importers, and always have at least five independent sources, although not all sources are necessarily displayed. We vary the sources we use and do not use the same sources each time.
He refers to next week's farmgate salmon price in NOK similar to EUR 11, and is by no means alone in having paid so much for the goods. Several traders SalmonBusiness has spoken to after lunch Friday point to similar price level.
Low supply
"The only pure spot sale is a 6+ [kg] truck to Southern Europe. It is priced at 111 kroner (EUR 11.7), but it is a pure 6-7 [kg] truck," says a fish farmer.
"We went out yesterday with offers of 104 (EUR 11), 107 (EUR 11.3) and 108 kroner (EUR 11.4) for the main sizes," he says, knowing that the prices, characterized by low supply, are suitable to take the lives of some of their customers.
"It's bloody. A customer of ours in the Netherlands has received an offer of 113 kroner (EUR 11.6) at 4-5 [kg]," he says, but points to an average price around EUR 11-11.2 is probably closer to the average.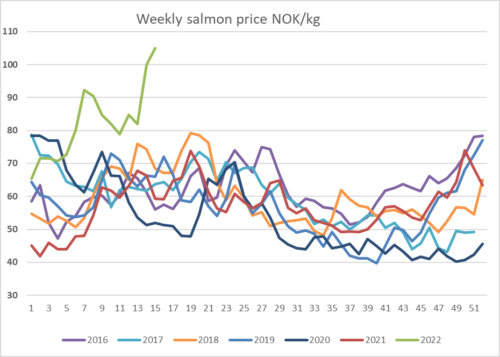 "We do not have many trucks left to place. It's mostly big fish. In the air cargo market, it is anywhere from 115 to 130 kroner (EUR 12 to 13.7). China is at 125-130 kroner (EUR 13.1-13.7), South Korea a little below and the United States at 115 kroner (EUR 12.1) at 6+," he says.
The overseas market for airborne salmon is primarily the heaviest weight classes.
Credit limits
"People pay around 100 kroner (EUR 10.5) for the next week as well – at 3+ [kg]," says an exporter. "We have not bought anything. We'll not have a lot of fish," he adds.
"But the customer base is shrinking at these levels. We do not have credit limits. We have no choice, we have to calm down. We do not buy fish without having the customers with us," he says, and refers to the so-called back-to-back agreement.
"There are not many flights at the moment. China has stopped. The demand is there, but there is no room on the planes. It is clear that big cities like Shanghai, Shenzhen and Hong Kong are closing down, there are not many flights."