Moen Marin has handed over a new Nabwork 2411 service vessel equipped with the SkaMik 1.5 de-licing system to Nidaros Shipping. The vessel will operate on the west coast of Canada for Grieg Seafood.
The delivery of the new vessel "Coastal Server" has a total value of almost €10 million.
After sailing under its own steam across the Atlantic to the Caribbean, the "Coastal Server" is now off of northern Mexico and is expected to arrive in Victoria, British Columbia, on the Canadian west coast next week. In the next few years, the boat will carry out service operations for the fish farming company Grieg Seafood.
Read also: Former Mowi regional director's service boat startup a winner
"Crossing the Atlantic is not an everyday occurrence for work boats in the aquaculture industry, but we were never in doubt that the "Coastal Server" could carry out such a voyage. Nabwork 2411 are robust boats," said Terje Andreassen, CEO of Moen Marin in a press release.
Takes over its sixth newbuilding
"Coastal Server" is the sixth new build that Nidaros Shipping has bought from Moen Marin, because we are very satisfied with the quality of the vessels, and with the follow-up during the construction phase and after takeover. Moen Marin is proactive and quickly follows up on warranty and maintenance locally in British Columbia," said chairman of the board Håvard Grøntvedt in Nidaros Shipping.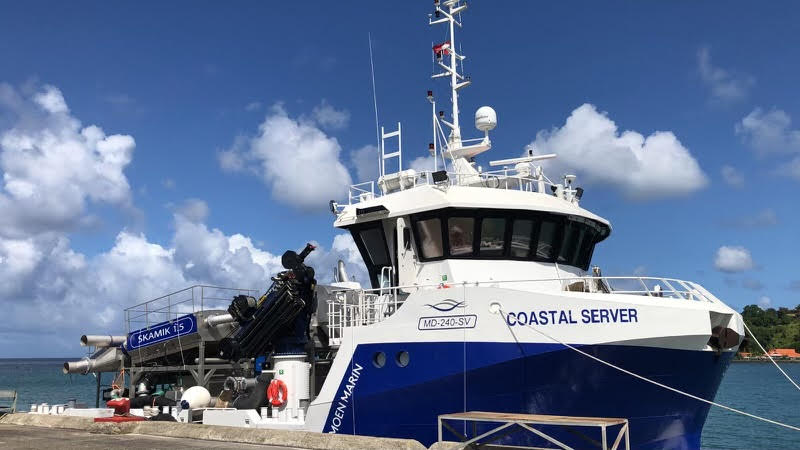 Moen Marin has become an international supplier of vessels and technology to the aquaculture industry. The company has built up a solid, local infrastructure for service and maintenance no matter where in the world the vessels are located.
"On behalf of Moen Marin, I would like to congratulate Nidaros Shipping with the new boat and thank you for the good and long-term cooperation. "Coastal Server" is a modern vessel with large capacity that will contribute to efficient service operations and good fish welfare for Grieg Seafood," said Terje Andreassen.
Milestone for SkaMik
"Coastal Server" is equipped with the mechanical de-licing system SkaMik 1.5, a milestone for supplier SkaMik: For the first time, the technology is being used along the coast of Canada.
The mechanical de-lice technology 1.5 removes 95 per cent of the lice in all stages, even trapped. Thus, it also has a preventive effect.
"The demand for SkaMik's solutions has completely decreased, we are set to quadruple turnover from 50 million in 2020 to 200 million this year. It is very fun that we now also get to demonstrate the technology in the Canadian market, says Geir Skarstad, general manager of SkaMik.