Missed out on record prices due to fixed contracts.
Nordea Markets has downgraded its recommendation for Lerøy Seafood to sell from hold, with a price target of NOK 65. At the same time, the recommendation for Grieg Seafood was downgraded to hold with a price target of NOK 150 and for Austevoll Seafood it was downgraded to hold with a price target of NOK 127.
This was announced in an update on Wednesday, according to TDN Direkt.
Nordea believes that the investment case for Lerøy Seafood in the short to medium term is less appealing than previously, partly because they missed out on the gold-edged salmon market in the second quarter as a result of fixed contracts, at the same time that costs are expected to rise above NOK 50 per kilo. The investment bank also sees a risk that the volume guidance for 2022 will be adjusted downwards.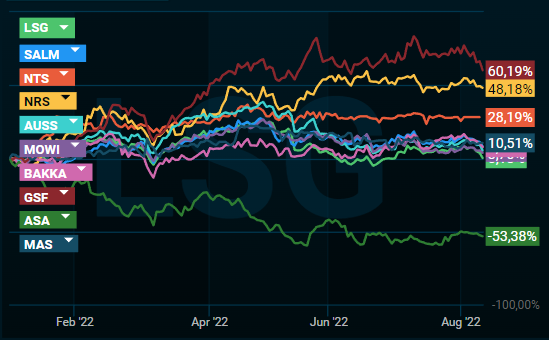 For Grieg Seafood, Nordea expects a record high operating result in the second quarter, but believes that the downside risk to the estimates is greater in the second half of 2022. They note that the company's earnings per share have the sector's highest sensitivity to the salmon price.
As Nordea is now reducing expectations for Lerøy Seafood in 2023-2024, they also see a less attractive investment case for main shareholder Austevoll Seafood, as the share prices in these companies tend to move at the same time. Austevoll is therefore downgraded to hold from purchase.
Nordea also lowers the price target for Mowi to NOK 260 from the previous NOK 270, but repeats the buy.