May not have sufficient right to cross intertidal zone say critics of the USD 400 million mega salmon farm.

Bangor Daily News reports two groups that oppose the fish farm filed a brief to object to the firm's application for a submerged lands lease.

Intertidal zone
Upstream Watch and the Maine Lobstering Union have jointly submitted a second brief last week to the Maine Bureau of Public Lands. Attorney Kim Ervin Tucker objected to Nordic's pending application for a submerged lands lease, arguing that "Nordic Aquafarms does not have sufficient title, right or interest to cross the intertidal zone where it says it does."
However, last month, Bureau of Parks and Lands officials ultimately determined to move forward with processing it.
Nordic has an easement across waterfront property owned by Richard and Janet Eckrote that lies between the proposed fish farm and Penobscot Bay. Ownership of the area between the high and low-tide marks as well as the Route 1 crossing, is in dispute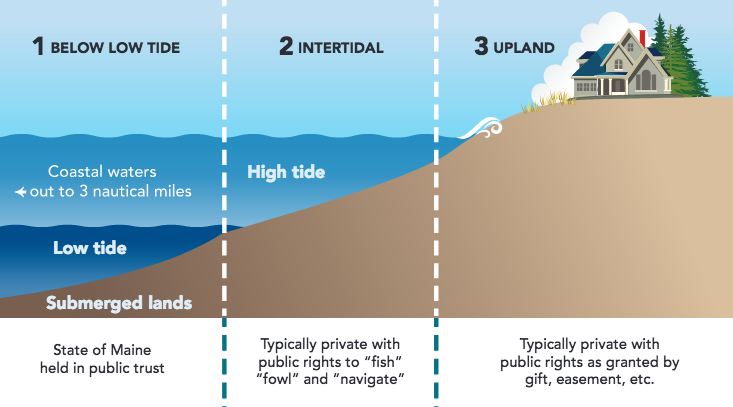 1640s
Maine is one of just a handful of states where coastal landowners own the intertidal zone out to the mean low tide line. In most places in the U.S., the intertidal zone is owned by the state. This is in accordance with a centuries-old Colonial Ordinance of the 1640s that governed the colony of Massachusetts and the district of Maine before they became states. Those terms have been interpreted by courts in the ensuing centuries.
According to the Public Shoreline Access in Maine document, Maine and Massachusetts are exceptional in their approach to the intertidal zone. "In most states, private owners hold title to the high-water mark and the states hold the inter-tidal zone, submerged lands, and coastal waters as trustees for the benefit of the public. This is known as the "Public Trust Doctrine," a legal principle that dates back centuries to English law (and ancient Roman law before that) and was a protection against those, including kings and emperors, who might impede the public's interests in important activities such as fishing, commerce, and navigation."
The publication added attorney Tucker is arguing that "the actual owners of the intertidal zone in question are Jeffrey R. Mabee and Judith B. Grace, a couple who do not consent to the pipelines crossing the property. In fact, to protect their property they have placed their intertidal zone under a conservation easement that would preserve it in its current condition and keep it free of any commercial or industrial structures."
Carol DiBello, the submerged lands coordinator for the Maine Department of Agriculture, Conservation and Forestry, told Bangor Daily News that she has asked Nordic to send more documents to the state by Thursday, May 16.
"We have asked for Nordic to submit what they have to support their claim that the Eckrotes own the intertidal land," she said. "We haven't made any decision at this point. We are waiting to see what other information we get in."
Confident
Nordic said that it strongly disagrees with the brief. "We're confident that we'll be granted the permit," said Nordic's director of operations Marianne Naess to the publication.
On their Facebook page, Nordic wrote: "As far as the intertidal challenge is concerned, we are comfortable. What we find most interesting is that Amy Grant and one resident have attempted to claim a conservation easement in the intertidal across two other shoreline properties without speaking to the involved shoreline property owners. They have also in their crusade revealed that some shoreline owners do not own their intertidal, which may be an unpleasant surprise to some owners. We withheld our surveys when we became aware of this situation some months back – it was not our role to reveal such sensitive information to the community and owners. Some of these shoreline owners might have wanted to acquire rights to their intertidal, while Upstream Watch is now trying to take control of them. Is this how fellow citizens treat each other in this town? We think the majority would not."
The company aims to complete the 30,000 tonnes-a-year land-based salmon farm – later on this year. It is also planning a second land-based aquaculture facility in California, which would bring Nordic Aquafarm's total US output to 50,000 tonnes of salmon per annum.