Faroese salmon farmer hopes to turn around challenging recurring pattern in Scotland.

In a stock exchange announcement, the Faroese salmon farmer Bakkarost posted EUR 150 million in revenue in Q4 2020, down from EUR 215 million the period before.
The Bakkafrost Group delivered a total operating EBIT of EUR 12 million in Q4 2020, down from EUR 56 million in Q4 2019.
Total harvested volumes were 25,300 tonnes. The Faroe Islands was 16,000 tonnes, Scotland was 9,300 tonnes.
For 2021, Bakkafrost has signed contracts for around 28 per-cent of the total expected harvest volumes in the Faroe Islands and Scotland.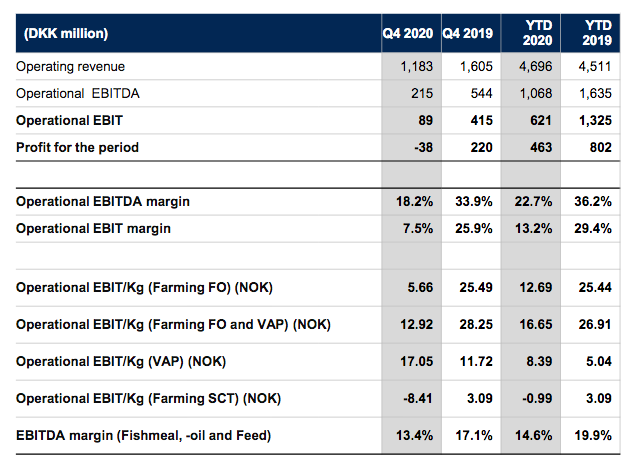 CEO Regin Jacobsen said that the groups' farming operation in the Faroe Islands has been strong in this quarter, reaching the expected harvest volume target thanks to investment. However, Scotland's operations (Scottish Salmon Company) had been challenging in this quarter and during the second half of the year.
"Historically, this has been a recurring pattern which we expect to be able to relieve going forward," said Jacobsen, adding that "the real game-changer will be when we have implemented our large-smolt strategy in Scotland".
"This has been yet another quarter marked by the Covid-19 pandemic which has depressed the global market for salmon. The negative effects of the pandemic on the salmon market continued during this quarter when many countries experienced their second wave of Covid-19. This has been challenging to our customers as well as to intercontinental logistics," said CEO Regin Jacobsen.
"Especially the food-service sector has been depressed while retail has developed strongly. Again, during this quarter we have benefited from our flexible value chain and diverted larger harvest volumes into our VAP segment, producing high-quality retail products. Despite the challenges caused by the Covid-19 pandemic, we have been able to maintain a high production during the whole of 2020, including Q4. Under such challenging market conditions, it is also positive that the industry – including Bakkafrost- has demonstrated financial resilience," added the CEO.
In Q2 2020, Bakkafrost commissioned a new 7,000 m3 well boat with hybrid technology to reduce carbon emission and ensure optimal energy consumption. The vessel will be delivered in H1 2022 and will play an important role in
Bakkafrost's large-smolt strategy and plans to grow beyond 100,000 tonnes in the Faroe Islands with offshore farming, as well as adding freshwater treatment capacity.
The board of directors proposes that a DKK 3.65 (NOK 5.01) per share shall be paid out as dividend. The long-term goal of the Board of Directors is that 30-50 per-cent of earnings per share shall be paid out as dividend.