Virus trouble affects food service.
"We expect Mowi to report an EBIT of EUR 85m, which is in line with current consensus. Weak prices in US leading to EBIT losses in Canada and Chile is the main drag in the quarter."
That's what investment back Pareto analyst duo Carl-Emil Kjølås-Johannessen and Gard Aarvik wrote in their preview report ahead of Mowi's second-quarter results presentation.
Bold discounts
The US market has been, and remains, heavily affected by the coronavirus. Air shipments of fresh salmon have been reduced to a minimum, and the lean volumes submitted are sold for low prices. During these periods, Chilean salmon fillets have been sold at the same prices in the United States as whole Norwegian salmon in Europe.
"We expect Mowi to report a low Q2 EBIT compared to the last couple of years, which primarily is driven by very low prices in US but also relatively low prices in Europe. In both regions the COVID 19 impact on the food service market is the main reason," the report stated.
Pareto Securities sees a harvest volume of 101,000 tonnes and an operating margin of EUR 0.8 per kilogram in the quarter.
On an annual basis, Pareto expects an adjusted net profit of EUR 0.81 per share, implying that the stock is currently trading at a P/E (price/earnings – red.anm.) of airy 20.8. Based on a Mowi valuation on next year's expected earnings, of EUR 1.30 per share, P/E is considerably more moderate at 12.9.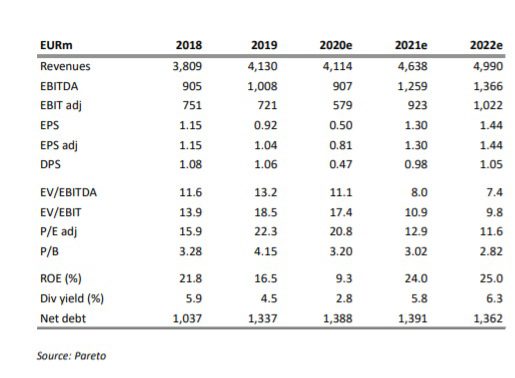 Guiding
"We reduce our 2020 estimates slightly on weaker than expected Q2 prices in US, this is however partly offset by stronger prices in Europe. Longer term we make limited changes as we keep our longer-term price estimates unchanged. We expect the company to reach its volume guidance of 450k tonnes as the growth in Norway should have been decent lately," said the Pareto analysts.
"TP unchanged, still a Buy As we make limited changes to our estimates, we keep our TP of NOK 205 and Buy recommendation. Our TP corresponds to 14.5x 2021e EPS, which is a discount to current valuation of BAKKA/SALM at 16x/14.6x," the analyists stated.
Mowi will present its second quarter results on the 19th August.