Grieg Seafood is favourite.
Norway Royal Salmon (NRS) is the only one of the 12 seafood companies the investment bank covers that does not obtain a BUY recommendation. Here, analysts Carl-Emil Kjølås Johannessen and Gard Aarvik are settling for a HOLD recommendation. However, the price target is NOK 230, NOK 10 below the last turnover price, so in reality the NRS share is a SELL recommendation.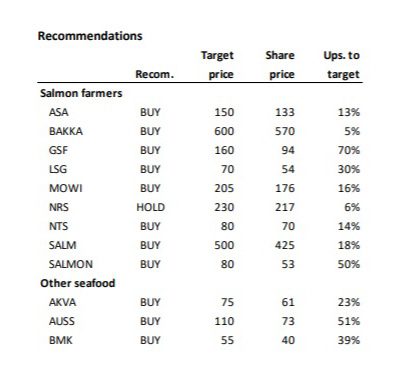 Disregarding this, there is some optimism to be traced in investment bank's 'portfolio.
Discount
The largest upside to price targets is the analyst duo's recommendation on Grieg Seafood – with a whopping 70 per cent. According to their own calculus, Grieg Seafood is traded on a P/E of a modest 6.6 for the 2021 result.
As second choice, Austevoll Seafood is highlighted, with an upside of 51 per cent. The seafood conglomerate, which is the main shareholder in Lerøy Seafood Group, is traded at a significant discount to underlying values. The financial market has historically not been willing to fully price the company's extensive pelagic efforts.
Correction
Salmon prices have seasonally fallen back in the month of June/July. Fish Pool's forward prices are also reflected in fish pool's forward prices, which are now NOK 49.75 (EUR 4.6) for the third quarter and NOK 53.05 (EUR 4.9) for the fourth quarter.
Seafood shares fell heavily in connection with the coronavirus shock this spring, and still haven't returned to levels before the pandemic flared up.
More to go on
In the case of by far the most traded of the seafood shares on Oslo Stock Exchange, Mowi, Pareto has a price target of NOK 205. When the stock exchange closed on Thursday afternoon, Mowi was last trading at NOK 178.10. Mowi is valued, according to Pareto's estimates, at an EV/EBIT 16.1 for 2020, falling to 9.5 for 2021.