Around 130,000 people have signed an open letter from activist group Compassion in World Farming (CIWF) calling on the Scottish government to impose a moratorium on Scottish salmon farming over alleged welfare concerns.
CIWF's Sarah Moyes and Jemma Watson presented the petition to Scottish Greens politician Ariane Burgess, opposing the Scottish government's current plan for a massive industry expansion by 2030, claiming that "while the industry expands, animals pay the price."
The governing Scottish National Party (SNP) and the Scottish Greens formed a cooperation agreement after the region's last election, which saw the SNP only secure enough seats to form a minority government.
The activist group has accused the Scottish salmon industry of being "cruel and unsustainable," alleging that it is an "environmentally damaging" sector that "results in the overfishing of wild populations and intensifies species decline."
"Despite this evidence, the Scottish Government are still not addressing these concerns! The British public have made their views clear, with 130,000 signing our open letter. They do not want this awful suffering to continue. Rather than progressing with plans to expand the industry, a moratorium is needed – now," Moyes said in a statement.
Scotland is one of the largest producer of farmed Atlantic salmon, with salmon accounting for around 40 percent of Scottish food exports (by value). In 2021, wet weight estimated volumes of production in 2021 indicated that harvested tonnage of around 188,000 tonnes was realised in Scotland in 2021.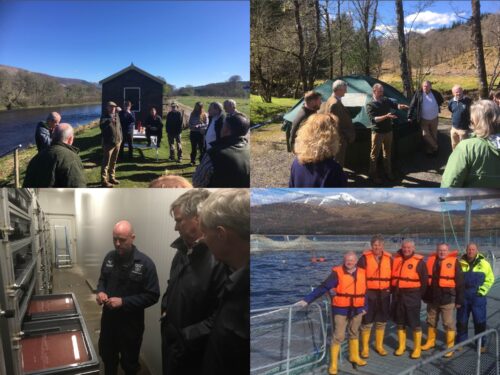 In Salmon Scotland's Q4 2021 report, the group stated that the farmed salmon sector contributes to over £640 million (€767 million) to the country's economy every year, turning over in excess of £1 billion (€1.2 billion) worth of Scottish salmon and employing over 2,500 people.
The Scottish salmon sector has repeatedly rejected animal welfare concerns, claiming that "fish health and welfare is at the heart of successful Scottish salmon farming." "Scottish salmon farmers rear their fish to the highest welfare standards, on the basis that fish in their care are capable of feeling pain. That is an underlying reason why the industry takes its welfare responsibility so seriously," Salmon Scotland stated.
"There have been recent issues with changing water temperatures and new gill health problems. Complex challenges require sophisticated solutions and the industry is investing in research to improve survival, from work to breed fish that are less susceptible to health issues to looking at why there is increased resistance to sea lice medicines," the industry body states on its website, responding to concerns about salmon survival rates.
Recently, Salmon Scotland, in partnership with its members, the government and regulators, launched the 10-year Farmed Fish Health Framework, which provides a roadmap to ensure "to ensure that farmed fish health reaches the high standards" that the industry aspires to.