15.4 per-cent drop off of Chilean salmon and trout exports due to lower air connectivity.
On Thursday, it was reported that the trade association The Air Transport Association (IATA), speaking on behalf of the global airport industry, said that it believed that the Chilean salmon industry may have a considerable lack of air cargo space next year.
IATA calculated that the drop-off could mean a reduction of around 15.4 per-cent of Chilean salmon and trout exports a year.
In terms of numbers, that translates at about 130,000-140,000 tonnes of fresh fish trimmed off Chile's exports.
Last month, Mowi estimated that 55,000-65,000 tonnes of salmon frozen inventory was being built-up in Chilean warehouses. With impacts of the pandemic, and prices to remain low for a while, the impact of decreased frequencies of Chile's main airlines could be painful.
IATA Latin America boss Peter Cerdá, who has been doing considerable press on the subject in Chile, is warning industries that the airline industry is expected to brace for more to come, with many more airline companies expected to go bankrupt in 2021.
"When an international airline is lost, many years pass before it can be recovered; at least five years," he told Diario Financerio (republished on the IATA site)
"Our economics department has done research on the correlation between certain commodity exports and available cargo capacity. One of the industries we looked at is fisheries in Chile," an IATA spokesperson told SB.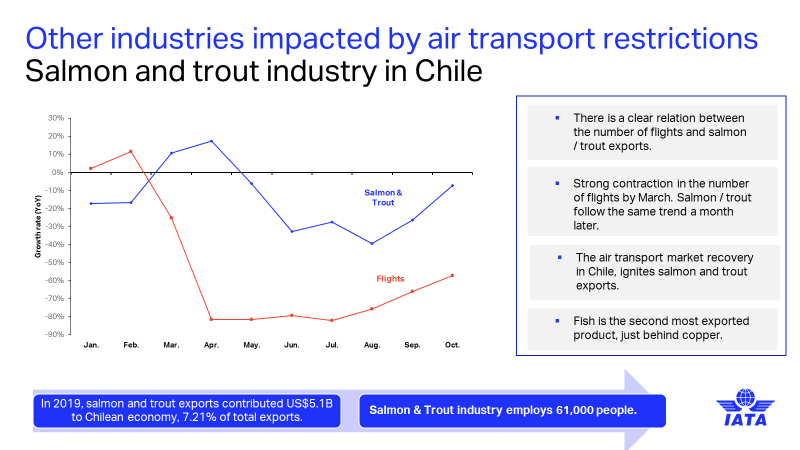 Cermaq Chile Managing Director Steven Rafferty said that it was important to note that certain companies are reducing volume.
"One should of course bear in mind that volumes from Chile are due to drop by up to 20 per-cent in 2021, so the export volumes will drop by the same percentage of course," he said.
"It is difficult to be accurate on the comments by IATA, however, there is an increased demand for frozen products from Chile during the pandemic and the margins on these products are often above fresh margins. It is correct that the lower exports to China and Russia have caused lower prices for frozen whole large fish, but portions and fillets have not been impacted to the same extent. We expect all markets for Chilean salmon to be strong in 2021," concluded Rafferty.