Mowi CEO Ivan Vindheim describes the demand for salmon as "extremely strong", with price increases in Europe and North America of 19 and 55 per cent respectively on an annual basis.
"So it is a very good market. When the volumes now calm down, it looks good. We are optimistic," he said to TDN Finans.
The company's quarterly report reports strong demand from grocery chains and food service continues to improve. On the negative side, China is mentioned, where there are significant logistical challenges.
Falling
Mowi estimates falling global supply growth between three and seven per cent in the fourth quarter. The supply growth over the next 12 months is estimated at zero per cent. Mowi, for its part, expects to slaughter 104,400 tonnes of salmon in the fourth quarter. This is a decrease of 22,200 tonnes from the same quarter last year.
Mowi has a lower contract share than usual due to a desire to position the company in anticipation of increased spot prices. The contract shares for the fourth quarter are distributed as follows:
Norway 31 per cent

Canada 11 per cent

United Kingdom 67 per cent

Chile 41 per cent

Faroe Islands 0 per cent
Mowi's contracts typically have a duration of 3-12 months.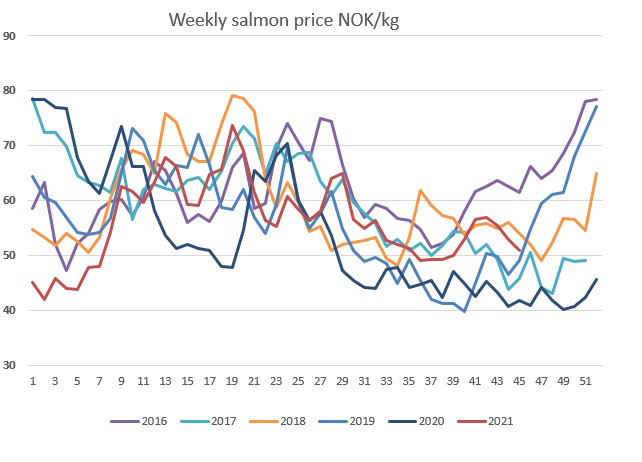 Flat
The spot price for salmon has, somewhat unexpectedly, fallen back in the last couple of weeks. A number of market players SalmonBusiness has spoken to expect a fairly strong rebound in the coming weeks.
In the quarterly report for Bakkafrost, which was presented yesterday, the Faroese fish farming company also expects a negative supply growth globally in the fourth quarter. Bakkafrost estimates this at -4 per cent.
In 2022, the global harvest volume of salmon is expected to be flat in the first half of the year and increase by nine per cent in the second half of the year, the quarterly report states. Bakkafrost operates in the salmon markets in Europe, the USA, East Asia and Russia, and notices here that the market has continued to normalize after the break from the Covid-19 pandemic.