Grieg Seafood's investment in post-smolt production is paying off, with its land-based facility in Rogaland, Norway said to be on track to growing 4,500 tons of large post-smolts of up to 1kg this year.
Last year, the Tytlandsvik AQUA facility that it co-owns equally with Bremnes Seashore and Vesthavbruk, produced 3,000 ton of post-smolts that averaged 750 grams, said technology provider AKVA CEO Knut Nesse on Friday.
Master stroke
The salmon were transferred in the sea cages in Rogaland and took only eight months to grow to a harvest size of 4.8kg; did not need sea lice treatment and saw a mortality rate of below one percent. Moreover, the post-smolts demonstrated a feed-conversion ratio (FCR) of 0.87 – a feat when compared to the industry standard of 1.2 to 1.5 FCR.
"This is another league," said Nesse in describing Tytlandsvik's performance. He said the post-smolt facility is possibly the world's largest currently. Its recent expansion bumps capacity to 6,000 tonnes.
Since the facility's completion in 2019, it has seen 18 groups of post smolt weighing more than 600g harvested so far.
Most cost-effective initiative
Grieg Seafood CEO Andreas Kvame called the post-smolt strategy as the group's "most important and most cost-effective initiative."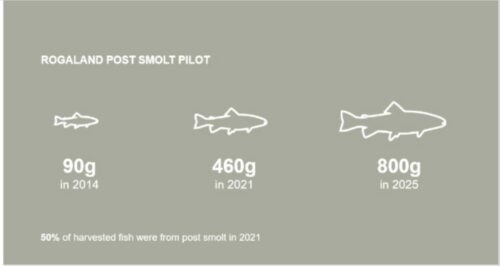 "By using larger smolts, we transfer more robust fish in the sea, and by reducing the time they spend in the sea, we reduce our biological risk and we increase capacity by moving growth to land. It is also core to fulfilling sustainability requirement and ambitions," Kvame said at the group's Capital Markets Day this past June.
See also: Grieg Seafood to double smolt capacity at BC hatchery
Nesse of AKVA sees a significant growth potential in the post-smolt market, not only in Norway but also in other regions.
"We think that it's a very safe bet for the fish farmers to realize growth and for you to utilize your maximum allowed biomass in your licenses in a better way," he said.
"Post-smolt, from a technology standpoint, is very much proven. We believe there is a lot of merit in post-smolt," he said.
He added that the post-smolt market will drive growth for the group; it has upped its investment in manpower to enhance their support to post-smolt customers and land-based RAS at large.