Can one hope for cheaper fish feed?
It has been almost a perfect storm. War in Ukraine, drought in parts of China and Argentina and price shocks for electricity, diesel and fertilizers. There has been no shortage of drivers behind the sharp rise in prices we have seen for grain products and raw materials for fish feed over the past year.
Recently, however, a number of raw materials, including oil, aluminum, iron, fertilizers, as well as wheat, rapeseed, maize and soybeans have experienced a significant weakening in prices. Rates for shipping of bulk goods have also fallen.
Fallen
Both maize, wheat and soybeans have fallen more than 25 percent from price peaks earlier this summer, and are now trading at prices below the level from when Russia invaded Ukraine in late February.
Corn, Wheat, and Soybeans are all down over 25% from their highs and below the levels they were at before Russia invaded Ukraine. Great to see, hopefully will continue. pic.twitter.com/t78TRfN9Dh

— Charlie Bilello (@charliebilello) July 6, 2022
Future prices
In line with increased harvesting and supply of feed raw materials, combined with a demand side characterized by a certain "demand destruction", the forward market now signals a further weakening of prices for soybeans, maize and cereals for the second half of 2022.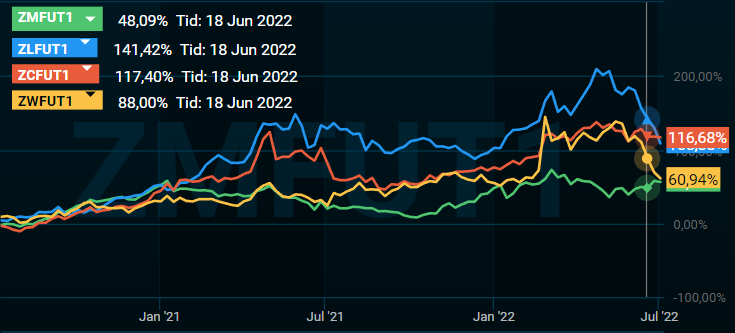 As a direct function of increased prices for energy, shipping and raw materials over the past year, fish feed prices have risen sharply. SalmonBusiness reported last week that feed prices approached $1.50 per kilo in the first quarter.
Feeding farmed fish has never been more expensive.
Farmers, feed suppliers and fish farmers are now closely following the price journey further on the world's commodity exchanges.