A series of red tides are causing salmon and sea urchin to die en masse off the coast of Hokkaido, driving up retail prices across Japan and jeopardising the peak autumn fishing season.
The Hokkaido prefectural government announced last week that its estimate for damage to the local seafood industry as of 18 October was 7.6 billion yen (€58 million). The figure is expected to rise further as fisheries officials are still trying to assess damages in the Hidaka area.
This figure is already a 65 per cent jump from the 4.6 billion yen (€35 million) in the previous update on 8 October.
Prefectural officials said at least 21,300 salmon have perished, resulting in a loss of about 55 million yen (€425,000) in fishing revenue. Losses from the deaths of 2,300 tonnes of sea urchins, a sushi bar favourite known as uni, were put at 6.84 billion yen (€52 million).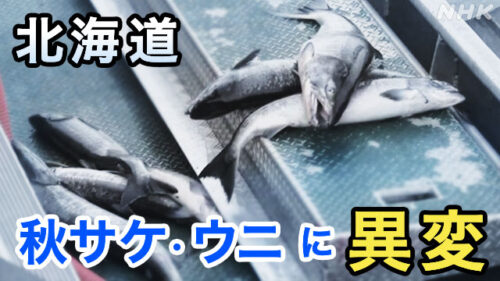 Salmon fishing began on 1 September, but by 2 October, according to the Asahi Shimbun, almost half the fish in the nets were dead. 
Price surge
The massive deaths of sea urchins and salmon have led to a surge in their prices. Retail prices for Hokkaido produce are reported to have doubled – and even tripled at some retailers in Japan amid a supply crunch that has caused several sushi restaurants, including conveyor belt sushi restaurant chain Sushiro, to raise prices.
This has grave implications for the fishing industry in Japan, while wholesalers, retailers and restaurants both in Japan and across the region will have to bear the brunt of rising prices amid the shortage of uni and ikura (salmon roe).
This is expected to worsen later in the year when uni and roe experience strong demand as people order osechi, or traditional New Year's platters.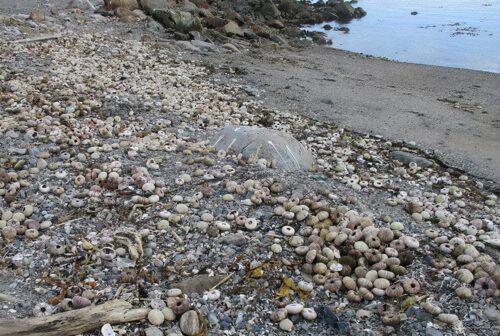 Fallout to last years
Red tides are relatively common in western Japan off the main island of Honshu in spring and summer, but are said to have never occurred around Hokkaido.
The fallout from this catastrophe is expected to last well beyond this autumn. It is assumed that juvenile sea urchins have also been wiped out by the event.
Hokkaido Governor Naomichi Suzuki, stated that the crisis was of an "unprecedented scale", and warned that the fallout of the red tide may last for at least four to five years as he appealed to Agriculture, Forestry and Fisheries Minister Genjiro Kaneko this month for urgent aid to protect fishermen's livelihoods.
Researchers with Hokkaido University suggested that phytoplankton, which has proliferated since mid-September, reached Hokkaido via the Kuril Current. The Kuril Current makes its way down to the coast of Hokkaido and the northeastern Tohoku region after flowing south along the Kuril Islands from Russia.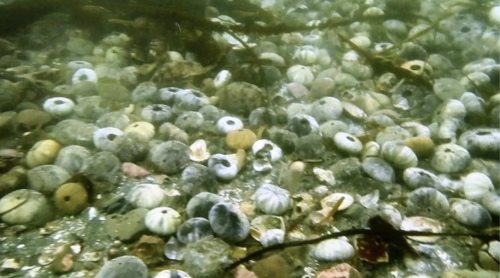 From Russia with love
One early reported theory had to do with potentially warmer water temperatures off Hokkaido due to climate change, with an intense heat wave this summer causing mercury levels to rise. This would make conditions conducive for the growth of certain types of phytoplankton that cause the red tide.
Studies by the Hokkaido Research Organization's Fisheries Research Department, the University of Tokyo's graduate school and other research institutes showed that the devastation to Hokkaido's seafood resources caused by red tide was triggered by Karenia Selliformis, a variety of phytoplankton which can multiply profusely even in relatively low temperatures.
The study by Takahiro Iida, a researcher specializing in environmental dynamic analysis, Takeshi Yoshimura, an associate professor of marine chemistry, and their colleagues took samples of water in Akkeshi Bay in eastern Hokkaido for analysis, using a university training ship between Oct. 5 and Oct. 13.
"It has yet to be determined exactly where Karenia Selliformis first occurred, but it is highly likely that it flowed south from the Russian coast through the Kuril Current," Iida said. "With further analysis, we hope to discover the mechanism of the red tide that formed in cold waters so we can predict when the next red tide will occur."