The gold rush continues into next week.
"We try to keep the price that is out in the market," said a buyer, and described the market as "hesitant". "If some gets it cheaper; that does not mean that there will not be very strong prices. Many have said that it will weaken, but I am not sure," he said.
Facts
Every Friday after lunch, SalmonBusiness report spot prices for salmon. These are fish to be delivered the following week. We contact several links in the value chain, including farmers, exporters and importers, and always have at least five independent sources, although not all sources are necessarily displayed. We vary the sources we use and do not use the same sources each time.
"Not many sellers are desperate here," he said about the fish farmers who are currently catching an operating margin of around 50 percent.
The market is characterized by a tight supply side. There is not much fish that is offered to a burning hot demand side.
Ugly
"There is a large spread, and there has been a lot of resistance throughout this week. We have little harvesting, and the market is late, but we are pretty sure of getting 93, 94, 96 and 99 kroner (EUR 9.3, 9.4, 9.6 and 9.9) at 3-6 and 6-7, respectively," said a fish farmer to SalmonBusiness.
"It has been lower and higher during the week," he said about the price. "And it is of course very ugly for many of our customers. One does not hope that the price will be many and 90s (kroner) for long, I do not think we have benefit from that."
"There is also little fish out of Scotland, the Faroe Islands and Canada. It is difficult to see what will lower prices far from this level in the next couple of months."
What about demand destruction?
"In the US, there are no signs that this has reached consumers yet, the same applies to the UK and Germany. The middlemen take the hit. Demand destruction is different this year, since all competitors in the protein category have higher prices. It will come eventually, but I'm not sure to what extent it will hit. 80+ (EUR 8+) is easy to imagine for a couple of months, because demand destruction will not be a significant part during that period. Consumers who have high electricity prices and high inflation, maybe they eat vegetables?" he wondered.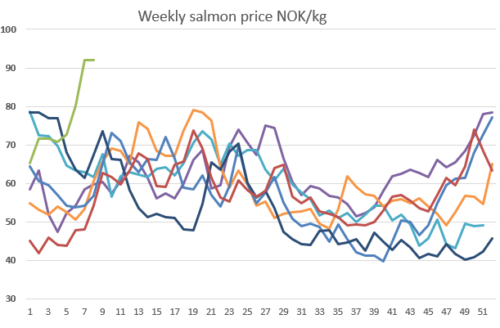 Desperate
"For some (processing companies) it is cheaper to take the fee from the customer than to buy at this level. But then you burn some bridges, you will not come in back in three months then. That said, there are probably many desperate processors now."
"It is 105 to 110 kroner (EUR 10.5-11) on (airborne) fish out of Europe for 6+ kg. China is probably at 120 -130 kroner (EUR 12-13)," he added.
Several traders SalmonBusiness has spoken to refer to a farmgate price in the EUR 9s for the most traded weight classes, between three and six kilos.
"It is not easy to sell fish at these levels here. We do not have unlimited customers – and credit insurance," said one exporter.
However, he referred to prices in the mid-80s, and "a little higher on big fish".
"There will be high prices for a while. The contract level is 6.5-7.0 euros for the next 18 months," he pointed out.