SpareBank 1 Markets doesn't believe that land-based will rock the boat any time soon in terms of volume.
In a statement posted on Sunday, SpareBank 1 Markets salmon analyst Tore A. Tønseth wrote that he expected prices to fall back to the NOK mid-60s (EUR 6.7) gradually after Easter, but with limited biomass available in the 2017-autumn and 2018-spring generation. He added that they expect the supply situation to stay relatively tight until September-October as the larger 2018 autumn generation becomes available.
"Maybe no surprise, but spot prices seem to have climbed to the NOK 70s going into the next week. The combination of few harvesting days and strong demand typically pushes the price up to very high level this week and it looks like this is going to happen this Easter also".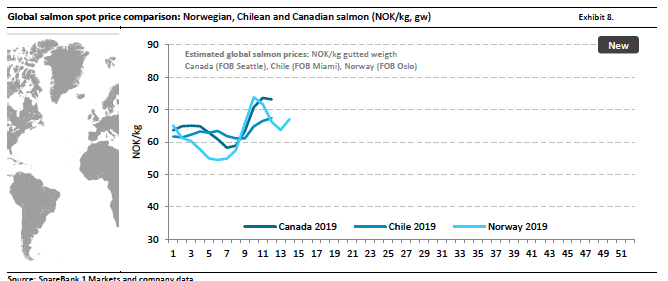 "When it comes to the stock market, listed salmon farmers have underperformed the general market over the past few months. This has to be seen in relationship with the strong share performance in 2018, but it is also related to increasing supply expectations and the potential for higher price pressure towards the autumn," he wrote.
Tønseth explained that a large amount of land-based projects have created some concern when it comes to what is the realistic long-term salmon price in the market. "We agree that current salmon price is probably somewhat higher than the long-term supply-demand equilibrium, but we find it hard to see any significant volume ramp-up coming from new sources the next few years," he added.
In the meantime, Tønseth said that "profitability in the sector will stay at historical high levels". A typical farmer has between NOK 20-30/kg (EUR 2-3) in EBIT every year, and with Norwegian farmers trading around EV/kg NOK 200 (EUR 20.8) and Chilean/Scottish farmers around EV/kg 100x, current profitability has covered majority of the EV within a five year period.